Comcast worker imposter arrested for alleged burglary in San Rafael
SAN RAFAEL, Calif. - A San Francisco man was arrested for allegedly posing as a Comcast worker to burglarize a residence in San Rafael, Sheriff's deputies said.
Authorities received a call from a resident in the Bret Harte area of San Rafael at about 1:00 p.m. on July 4. The resident told the deputies that they saw a suspicious man attempting to enter their house via their Ring security camera, according to the Marin County Sheriff's office.
The man, who was later identified as 30-year-old Tyler Christopher Ramirez from San Francisco, was dressed in a Comcast uniform and was not scheduled to be at the residence, the sheriff's office said. When a deputy arrived at the house, Ramirez was in the garage.
SEE ALSO: Nipsey Hussle murder: Eric Holder Jr. found guilty of first-degree murder
"[The deputy] sees what appears to be a Xfinity service worker running out of the garage that was propped open with a ladder," Sgt. Brenton Schneider said.
Schneider said the suspect jumped into the Xfinity van and drove off with the van door still open. A chase ensued across the Richmond-San Rafael Bridge with speeds reaching 80 to 90 miles per hour. Ramirez crashed the van when he tried to take a shortcut on the Cutting Blvd. off-ramp in Richmond. The van got stuck in thick brush. Ramirez left the van and ran away. 
"A California Highway Patrol helicopter happened to be in the area so they were able to get in the air and help us when he took off on foot from the vehicle," Sgt. Schneider said.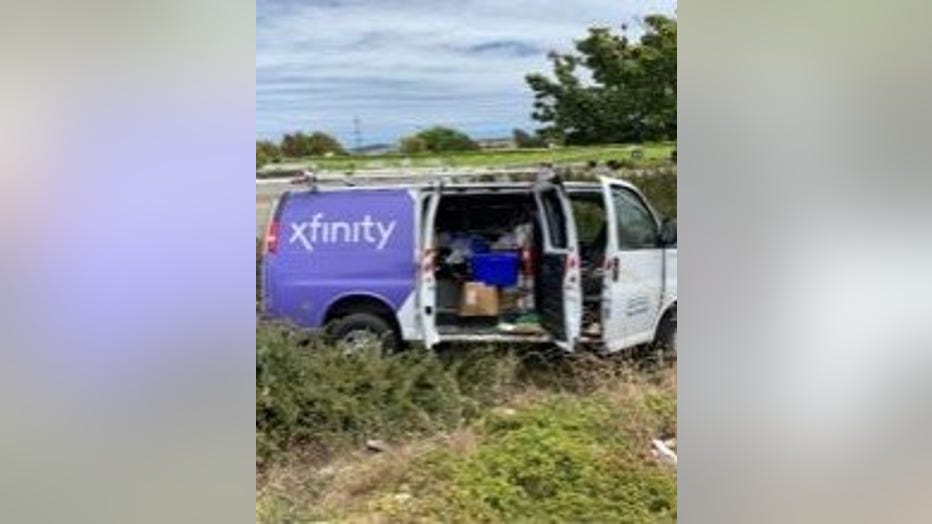 Investigators later determined that Ramirez stole the Comcast van to pose as an employee. (Photo credits: Marin County Sheriff's Office Facebook)
Ramirez was arrested on suspicion of burglary, possession of stolen property, stolen vehicle, and evading. 
Schneider said some mail was taken from the home, but the deputy prevented the house from being ransacked. He gave credit to the homeowner who spoke up and contacted authorities immediately upon seeing the suspicious activity.
It's unclear how and when the Xfinity van was stolen. A spokesperson for Comcast declined to comment on the incident because it "is an ongoing legal matter, involving a police investigation."