Commercial crab fishing delayed for fifth year in a row
SAN FRANCISCO - Commercial fishermen are most likely going to be crabby after the latest announcement from the California Department of Fish and Wildlife. 
The opening of the Dungeness crab commercial fishing season for areas south of Point Arena in Mendocino County is delayed for the fifth year running, California wildlife officials announced Friday.
Crabbing season for commercial fishermen usually begins around November 15 each year, but the season has recently been delayed due to humpback whales in the area.
Over 100 humpback whales have been spotted in the areas so far this month, which led to officials delaying the start for 2023.
The delays have coincided with a 2017 lawsuit which resulted in new restrictions for commercial fishermen to protect migrating whales. 
Recreational crabbing is still slated to begin on November 4, but crabbers in Zones 3 and 4 (which includes the Bay Area) will only be allowed to use hoop nets and crab snares, officials said. Crab traps will be prohibited due to whales in the area. 
"Large aggregations of humpback whales continue to forage between Bodega Bay and Monterey and allowing the use of crab traps would increase the risk of an entanglement in those fishing zones," said CDFW Director Charlton H. Bonham. "We will continue to work with both the recreational and commercial Dungeness crab fisheries to protect whales while working to maximize fishing opportunity."
All of California's six zones are under a Fleet Advisory because of the whales as well. 
California wildlife officials will conduct a new survey of the zones sometime in mid-November to determine if commercial crabbing can begin on December 1.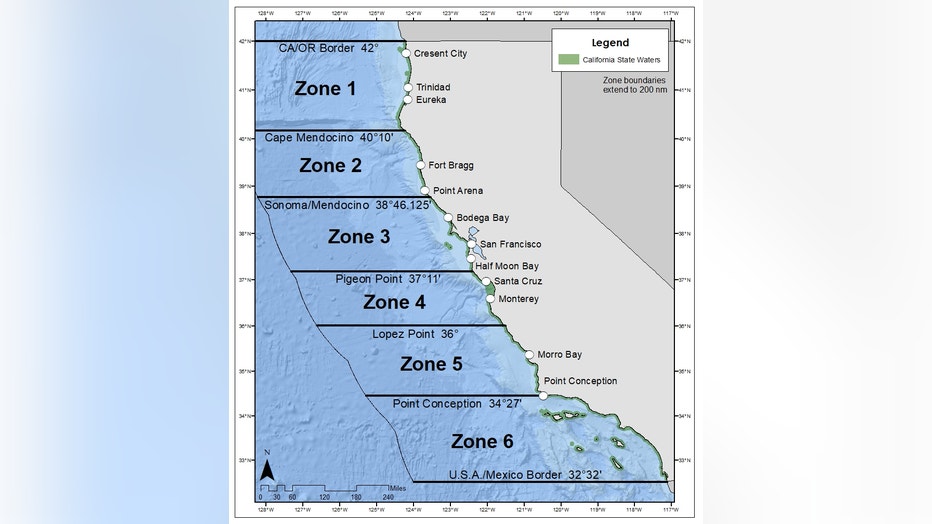 California fishing zones | Courtesy of CDFW
John Barnett, President of San Francisco Crab Association and a commercial crab fisherman tells KTVU it is a challenging time for fishing.
"For the other crab fishermen who haven't had a salmon season. This summer and the delay just means that much longer before they can go out, catch crabs and get paid," he said.
When it comes to fishing, payments often come in slow, which can be even more detrimental for a fisherman who doesn't have cash reserves to stay afloat.
"Even if we end up going before Christmas, most of the crab fisherman won't see a check before January," Barnett said.
Barnett has been fishing his whole life, and he's spent the past 20 years on his boat, the Amigo. He says that the fishing community must learn how to coexist and fish alongside the whales if they want to see a brighter future.
"We do not wanna tangle whales, don't get me wrong, we lose gear, it's not something that we're in favor of. We're trying to move around them, we're doing everything we can to not interact with whales," he said.
For many fishermen, fishing isn't simply a lifeline, it's a legacy often passed down within families.
"I liked fishing with my grandfather when he was still alive... I'm really proud to continue fishing, but a lot of it is just the love of doing it and being outside," Barnett said.
If you're looking for Dungeness crab for Thanksgiving or Christmas, you might just have to take a more hands-on approach.
"It does require a little adventurousness on their part, they gotta get on a boat and go out," Andy Guiliano, owner of Fish Emeryville told KTVU.
Clay Dashner is a deckhand on the Pacific Pearl, one of the 15 charter boats that Fish Emeryville works with for recreational fishing. His team brings people out on the water to get their own catch for many types of fish and for Dungeness crab.
Guiliano showed us one of the key differences between commercial and recreational fishing, a lightweight fishing tool called a crab hoop. Crab hoops are a smaller fishing apparatus used by recreational crabbers, and they are much smaller than the commercial crabbing pods which can weigh anywhere fromm 80-100 pounds.
Guiliani says that his team has been successful in avoiding whale interactions when using crab hoops like these.
Dashner is a deckhand on Pacific Pearl, one of the charter boats that works with Fish Emeryville. He loves getting people out on the water and watching them gain new skills.
"That's probably one of the best parts, showing people how to fish," he told KTVU.
Barnett says he hopes to see a way for fishermen and whales to coexist.
"Fishing with the whales is gonna get us going sooner, and get this industry back on its feet," Barnett said.