Commission closes abalone diving for the season amid a declining population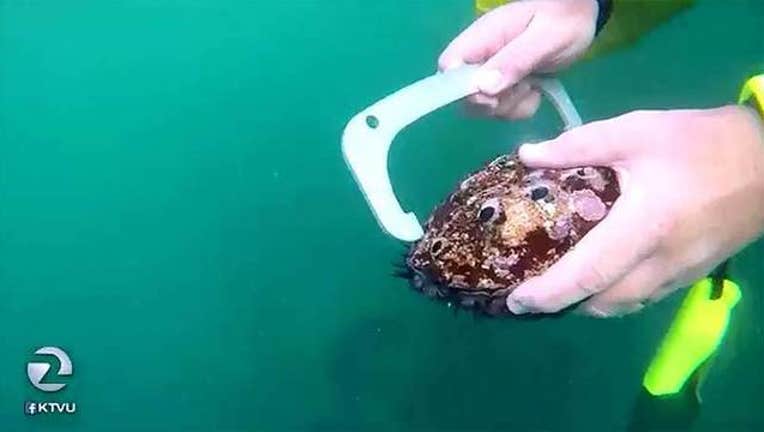 article
OAKLAND, Calif. - California wildlife officials voted Thursday to close sport abalone diving for the season amid concerns about a declining population.
The season was set to begin in April.
The unanimous decision by the California Fish and Game Commission came after a survey showed 37 percent of all abalone recorded were dead due to unfavorable environmental conditions.
Over the past three years, growth of kelp — a major food source for abalone – has declined significantly.
Kelp, usually common on the Northern California coast, has declined dramatically since 2014. Kelp forests are now 93 percent smaller compared to previous years, creating starvation conditions for abalone. Abalone cannot reproduce as easily when facing starvation.
What's more, dramatic increases in purple sea urchin populations have further reduced the food available for abalone because the urchin is also vying for the kelp.
Thursday's decision came as the Nature Conservancy and avid divers were looking for a way to save the season.
Some divers say abalone would actually be better protected if the legal fishing remained open in a limited capacity, because poaching would continue. They also worry it would never reopen once closed, the San Francisco Chronicle reported Thursday.
The Nature Conservancy says better data is needed to better manage fisheries.
Working with researchers out of the University of California, Santa Barbara, the group created an app that lets divers use their smart phones to record the location and size of their catch when they return to land.
They say engaging divers in data collection and other aspects of management could give them a stake in fisheries and encourage support of policies that improve long-term outcomes for nature and people.
Last season, sport abalone fishing was reduced by two months and the annual limit was reduced from 18 to 12 per person.