Community mourns slain Hayward officer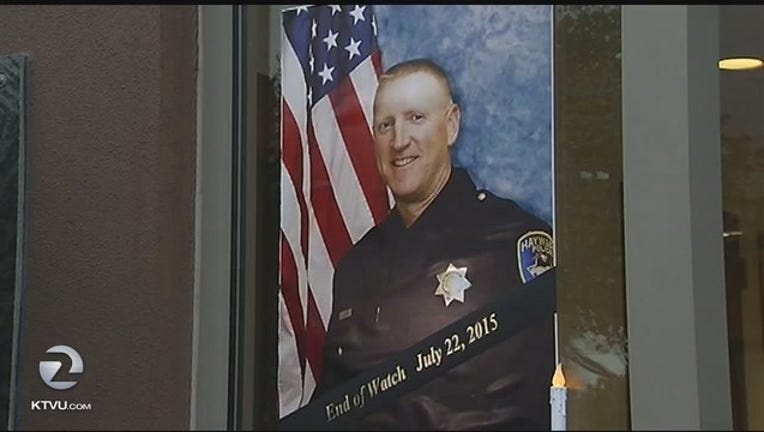 HAYWARD, Calif. (KTVU) - Dozens of people from law enforcement and the Hayward community gathered together Wednesday night to remember a Hayward police officer killed in the line of duty.
The pain was visible on the faces of the dozens who attended the candlelight vigil at Hayward City Hall, which included strangers and former colleagues.
Ramona Hernandez retired a few years ago from Hayward Police where she worked as a homicide detective.
"It's a loss all the way around," said Hernandez. "It's extremely tragic for his family."
"I'm stunned just as well as everyone else here at Hayward," said George Torres, who also retired from Hayward Police.
With the flags flying at half-staff at City Hall, there was a show of support from both law enforcement and the community.
"He made you feel good," said Security Guard Joe Lima. "He always used to say, 'You be safe out here' and that makes me feel good."
People young and old wrote hand-written notes to Sgt. Lunger's family and the Hayward Police Department.
"I went to Hayward this morning to see if I could help comfort them and they ended up comforting me that's the kind of family Hayward PD is made of," said the Chief of Cal State East Bay, Sheryl Boykins.
Chief Boykins says she worked 28 years for Hayward PD. She was brought to tears while talking about her fallen colleague.
"The law enforcement community is so close even if you're not related by blood, you're related by badge. And it hurts just as much," said Chief Boykins.
Second grader Leonidas Ramirez of Hayward was one of the first to lay flowers at Wednesday's vigil.
The 7-year-old and his mother also brought two balloons, one shaped like a fish and one shaped like a heart.
"We thought it'd be a good idea because we know the officer loved fishing. We heard he loved fishing," said Lorraine Ramirez. "We brought the heart to symbolize our love and gratitude."
The crowd applauded the CHP officers and Hayward firefighters who lined up at the back of the vigil.
Some Hayward police officers still on-duty were able to stop by and said it's been a tough day but the support has been amazing.
San Leandro Police were seeing patrolling Hayward Wednesday night in order to help the grieving department.