Company: Oil in Dakota Access Pipeline under Missouri River reservoir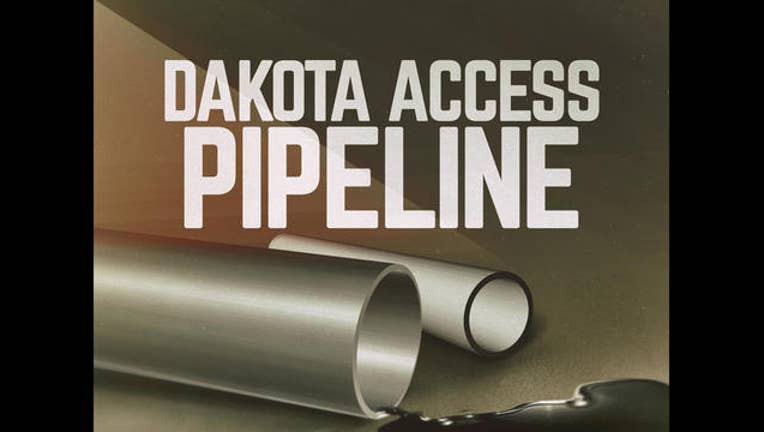 article
BISMARCK, N.D. (AP) -- The Dakota Access pipeline developer said Monday that it has placed oil in the pipeline under a Missouri River reservoir in North Dakota and that it's preparing to put the pipeline into service.

Dallas-based Energy Transfer Partners made the announcement in a brief court filing with an appeals court in Washington, D.C. The filing did not say when the company expected the pipeline would be carrying oil from North Dakota to a shipping point in Illinois.

"Oil has been placed in the Dakota Access Pipeline underneath Lake Oahe. Dakota Access is currently commissioning the full pipeline and is preparing to place the pipeline into service," the filing stated.

The pipeline is months behind schedule due to large protests and the objections of two American Indian tribes who say it threatens their water supply and cultural sites.

The battle over the project to move North Dakota oil 1,200 miles (1930 kilometers) through South Dakota and Iowa to Illinois isn't over, as the Standing Rock and Cheyenne River Sioux tribes still have an unresolved lawsuit that seeks to stop the project.

The tribes argue that a rupture in the section that crosses under Lake Oahe would threaten their water supply and sacred sites and would prevent them from practicing their religion, which requires clean water.

The company disputes the tribes' claims and says the $3.8 billion pipeline is safe.

The tribes in December held up the project by successfully pushing the U.S. government for a full environmental study of the Lake Oahe crossing, which is in southern North Dakota. But the Army Corps of Engineers, which manages the Missouri River for the government, rescinded the study and gave the company permission to complete the pipeline at the urging of President Donald Trump shortly after he took office.

There were months of protests against the pipeline, mainly in North Dakota, where opponents set up a camp on Corps land between the Standing Rock Reservation and the pipeline route. At times it housed thousands of people, many of whom clashed with police, who made about 750 arrests between August and February. The on-the-ground protests waned after the Corps ordered the shutdown of the camp in February in advance of the spring flooding season.

While the protests have abated, opposition has not. The company on March 20 reported "recent coordinated physical attacks" on the pipeline without offering details. Authorities in South Dakota and Iowa confirmed that someone apparently used a torch to burn a hole through empty sections of the pipeline at aboveground shut-off valve sites.

North Dakota has become the second-biggest oil producer in the U.S. in the past decade, trailing only Texas. The state stands to gain more than $110 million annually in tax revenue with oil flowing through the pipe, according to an analysis by The Associated Press.