Congressman heading Russia inquiry avoids angry protesters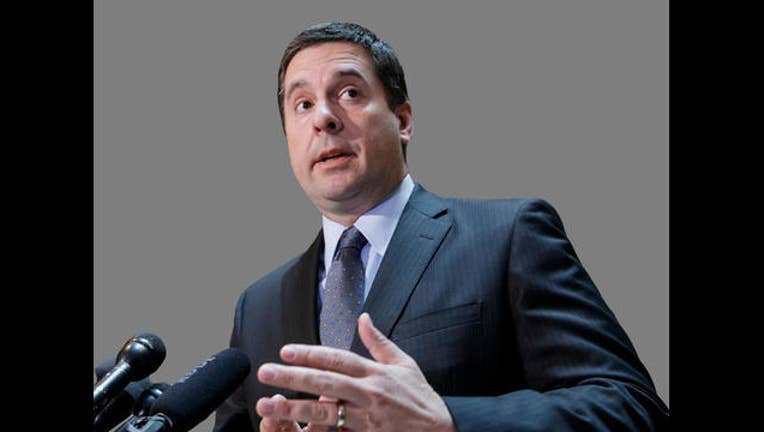 article
FRESNO, Calif. (AP) -- A California congressman under fire for his handling of an investigation into Russian meddling of the 2016 presidential election avoided a crowd of angry protesters in a Friday visit to his home state.

Republican Rep. Devin Nunes, chairman of the House Intelligence Committee, was ushered in and out of an event in Fresno, where he spoke at a private gathering of the Ag Lenders Society. Organizers declined to allow reporters inside.

Attendees said Nunes faced a supportive crowd inside, while outside on a busy street, roughly 300 protesters shouted, some waving signs linking Nunes to President Donald Trump and Russia.

"Congressman Nunes, we need a guard dog not a lap dog," one sign read, next to a protester holding another: "Get out of bed with Trump." A man shouted through a megaphone: "Come out and play, Nunes, you coward."

Nunes is facing criticism for going to Trump after a secret intelligence briefing before reporting his findings to his committee. Nunes, who was a member of the presidential transition team, has resisted calls to step aside from his committee's investigation into contacts between Trump campaign officials and Russians.

Nunes, however, shows no signs of giving up his leadership role.

"At the end of the day, this is a tough job, and there's tough work that has be done," Nunes told CBS47-TV  in Fresno in a Friday interview. "I think there's nobody better than me right now to be doing it."

He also said that he answers to nobody but voters, and the issue he briefed Trump on had nothing to do with Russia.

Not everybody is convinced.

"We need people to investigate who actually have an interest in an independent investigation," said protester Annaliese Herms, a 23-year-old office worker from Fresno. She called Russian interference a "breach of the democratic process" and called Nunes' integrity into question.

Guests leaving the event said the Russia investigation came up at least once during Nunes' talk, which focused mostly on water, a key issue in the farming region in California, the nation's leading agricultural state.

Leaving the luncheon, Joseph Butterweck said after listening to Nunes and following news accounts, he believes the congressman and Trump did nothing wrong.

"It probably wasn't there," said Butterweck, a veterinarian. "My assessment was that there weren't any ties between the (Trump) campaign and the Russians."

Back in Nunes' district, some people in downtown Clovis were supporting the congressman.

Melinda Winston, a 62-year-old retiree, said she was disappointed Nunes first went to the president with intelligence he learned in a secret meeting before sharing it with members of the committee he chairs.

"It seems like he did not handle that very professionally," said Winston, a Democrat. "It's too bad to hear his name on national TV."

Winston voted for Nunes and praised him because his office helped her with the state tax board.

Melvin Mason didn't fault Nunes for his actions in a job with tremendous pressure.

"I think the guy is just doing his job the best he can," said Mason, a 71-year-old Democrat and retired truck driver. "If I was him, I might have done the same thing."