Cousins killed in Berkeley balcony collapse had a twins bond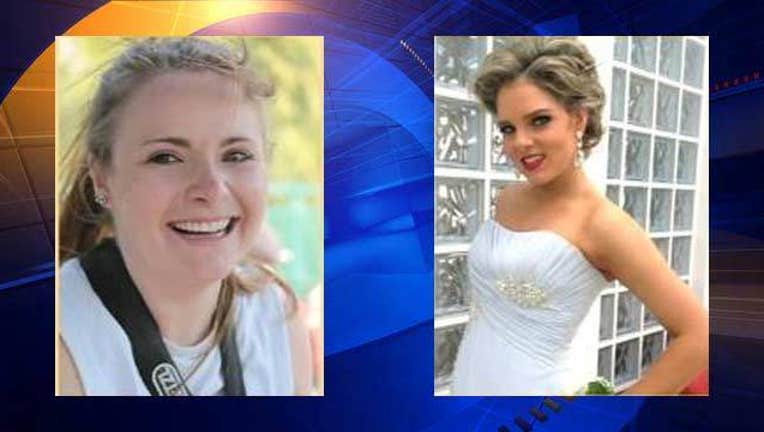 article
COTATI, Calif. (KTVU-AP) -- Two cousins who were among the victims killed when a balcony collapsed in Berkeley were remembered Saturday as kind, fun-loving young women who shared a bond of twins even though they grew up an ocean apart — one in California and the other in Ireland.
Ashley Donohoe, 22, of Rohnert Park, California, and her cousin Olivia Burke, 21, of Ireland were mourned Saturday at a Catholic Mass, where those in attendance wiped away tears but also laughed as a priest shared memories of the best friends.
A bagpipe player led a brief procession of heartbroken family and friends carrying the coffins into St. Joseph Catholic Church in Cotati. Wreaths of white flowers and emerald green ribbons decorated the church.
When Burke turned 18, Donohoe traveled to Ireland and surprised her. Burke often traveled to California to spend time with her cousin, said Rev. Daniel Whelton, who led the service at the same church where Donohoe was baptized.
"Growing up, they would dress alike and they would try to fool their parents into thinking they were twins," Whelton said with those in attendance breaking into laughter.
Whelton said Donohoe's mother told him the two were embracing when they died.
"In life they were together and in death they are together," Whelton said.
At a less somber celebration of the women's lives in a ballroom at Sonoma State University, where Donohoe was studying Biology, two giant screen projected photographs of the cousins as children and young women hugging, dressing up and making funny faces.
Donohoe's sister, Amanda Donohoe, said her sister traveled at least 22 times to Ireland to spend time with their cousin.
"Although their lives were really short and ended in a tragic way, they still led full lives with the short time they did have," Amanda Donohoe said.
"None of us will ever forget them," she added.
A dozen family and friends shared memories of the women that made about 6000 people in the massive room laugh and tear up. A group of Irish dancers performed while the crowd ate lunch.
The two cousins were among the six people killed on Tuesday when the balcony snapped off the fifth floor of a Berkeley apartment building during a birthday party, tossing 13 people to the street 50 feet below. Seven people are being treated in hospitals.
The other four dead victims were mourned at a Friday night vigil in Oakland attended by family members and dozens of their fellow Irish students — including some who saw them in their final moments.
Hearses carried the four metal caskets into St. Columba Catholic Church, where about 15 of the victims' immediate family members huddled together in the rectory for about an hour before entering the church for the private viewing. Reporters were not allowed inside.
A bus and a van bearing about 50 other Irish students living in the San Francisco Bay Area for the summer, as the four victims were, came to the church to honor the dead. The group included students who had been at the party where the balcony collapsed.
The church's sanctuary was decorated with cloths in the colors of the Irish flag and had screens in each corner of the room with projected images of the six students.
Several city officials from Berkeley visited to pay respects to the families. They included the city's mayor, police chief and fire chief, along with first responders who aided the victims the night of the accident.
Jimmy Deenihan, Ireland's minister for the diaspora, said the tragedy had garnered great attention in Ireland, and he was touched by how much support for the victims and their families he has found in the U.S.
"You can't really appreciate the trauma they are going through; only they can," Deenihan said.
Those being honored were Eoghan Culligan, Niccolai Schuster, Lorcan Miller and Eimear Walsh, all 21-year-olds from Ireland.
Families of the Irish students have made plans to take the bodies of their loved ones back to Ireland.