CPAC 2021: Mike Pompeo, Gov. Kristi Noem highlight Saturday's list of speakers
ORLANDO, Fla. - Day 3 of the Conservative Political Action Conference presented a new slate of speakers that included rising stars and former Trump administration officials.
Former Secretary of State Mike Pompeo addressed the crowd Saturday afternoon in a session titled "How the Bill of Rights Inspires Us at Home and Across the World."
He touted the work of the Trump administration over the last four years and how the fight to resist socialism and "woke cancel culture" continues. "The next four years are going to test us," he said to the crowd. He encouraged them all to "be a pipe hitter" and "keep grinding."
"Be a pipe hitter at church, at your PTA meeting; don't let them bring crazy into your classrooms, into your VFW," he said. "Be a pipe hitter when they tell you they're closing the mine or the factory because of some green vision. Keep it open."
"Mark my words, they're going to gut the defense budget we worked so hard to build," he said of the Democratic party.
"They're going to do it to pay for the Green New Deal," he said. "They're going to trade Army green for AOC green. That is a bad, bad trade," he continued as people in the audience booed.
RELATED: CPAC schedule: Who is speaking at the Conservative Political Action Conference in Florida
His comments reference New York Rep. Alexandria Ocasio-Cortez, who is known by her initials AOC and introduced the Green New Deal Resolution to address climate change policies. The plan has been widely criticized by the GOP.
He got the crowd cheering and up on their feet twice during his remarks, first when he referenced the Abraham Accords, a series of Mideast agreements, and secondly when said he was proud to have been part of the most pro-life administration in the history of the country.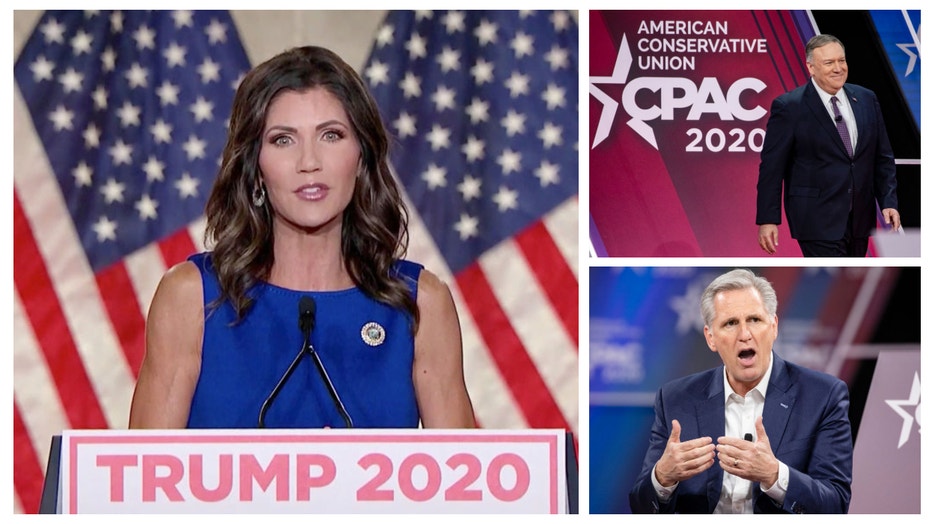 (Left) South Dakota Gov. Kristi Noem, (Top) Former Secretary of State Mike Pompeo and (Bottom) House Minority Leader Kevin McCarthy will highlight Day 2 of 2021 Conservative Political Action Conference (CPAC) in Orlando, Fla. (Photos by Getty Images)
CPAC featured panels throughout the day that highlighted key issues of conservative politics. House Minority Leader Kevin McCarthy took part in one focusing on "Winning Back America."
The immigration panel, called "Sell Outs: The Devaluing of American Citizenship," featured Texas Attorney General Ken Paxton, Reps. Yvette Herrell, R-N.M., and Paul Gosar, R-Ariz.
The panel on China included Sen. Bill Hagerty, R-Tenn., and former Ambassador Robert Lighthizer.
Gun rights advocates saw a panel on the Second Amendment.
A panel on the Biden administration's energy policy included Reps. Jodey Arrington, R-Texas, Mike Kelly, R-Pa., and Sen. Cynthia Lummis, R-Wyo.
RELATED: CPAC 2021: Trump allies push his continued dominance in GOP, false fraud claims
Before the gathering split into breakout sessions in different ballrooms, South Dakota Gov. Kristi Noem closed out Saturday's general session.
Noem gained national attention during the COVID-19 pandemic when she refused to shut down the Mount Rushmore State, spoke about her decision to allow schools and businesses to remain open.
"I believe South Dakota has been an example to the nation this past year. People used personal responsibility to protect their family's health and their way of life, while their government respected their rights and freedom," Noem said.
said that people themselves are primarily responsible for their own health and well-being, and that no governor should ever fine, ticket or arrest people "for exercising their personal freedoms."
As of Feb. 27, South Dakota recorded 112,293 cases of COVID-19, which accounts for the ninth fewest cases in the country. South Dakota has a population of 884,659, making it the sixth least populous state.
According to data collected by Johns Hopkins University, 1,886 died from the novel coronavirus in the state.
The conference continues on Sunday, its last day, with remarks from former president Donald Trump scheduled to close out the annual event. 
This story was reported from Atlanta. Fox News contributed.