Dead whale washes up on Pacifica beach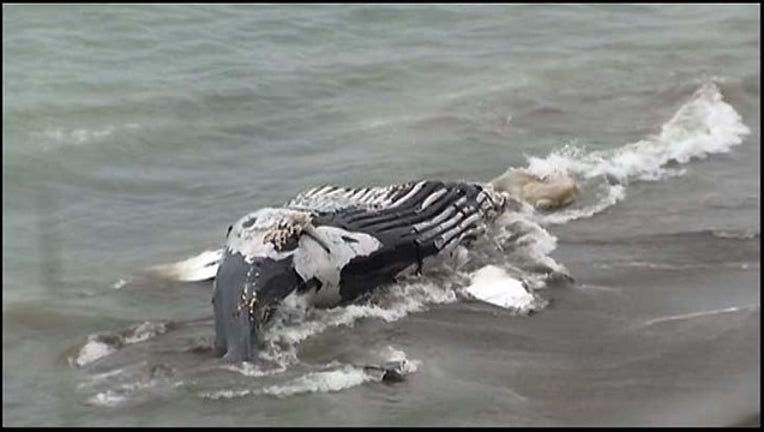 article
 PACIFICA (KTVU and wires) -- Scientists who examined a dead humpback whale found on a Pacifica beach Sunday morning have found evidence the whale was hit by a passing ship, according to the Marine Mammal Center.
The 38-foot juvenile humpback whale was found in the area of Esplanade Beach at about 6:30 a.m. Sunday.
Although the carcass was already decomposing, researchers with the Marin Headlands-based Marine Mammal Center and the California Academy of Sciences performed a partial necropsy later that afternoon, finding internal hemorrhaging on the whale's left side below its pectoral flipper, center officials said.
Such injuries are consistent with blunt force trauma and could have been caused by a ship strike, according to center officials.
The dead whale is the third to wash ashore in Pacifica since April. A 48-foot male sperm whale was discovered on April 14 and a 42-foot adult female humpback was found on May 5.
Necropsies on both whales were inconclusive, though scientists found evidence the other humpback also died from injuries suffered in a ship strike, according to the Marine Mammal Center.
In June, the National Oceanic and Atmospheric Administration advised ships moving through shipping lanes near the Bay Area to slow down to avoid striking endangered blue, humpback and fin whales that had been spotted foraging in the area, according to the center.
"By working with the maritime shipping industry, conservation groups, and others, we hope to minimize the outcomes of impacts from vessel-whale interactions," Greater Farallones National Marine Sanctuary superintendent Maria Brown said in a statement. "At lower ship speeds whales are more likely to survive collisions."
The Marine Mammal Center has only responded to 22 stranded humpback whales in its 40-year history.