Deadheads flock to Bay Area Grateful Dead concert one last time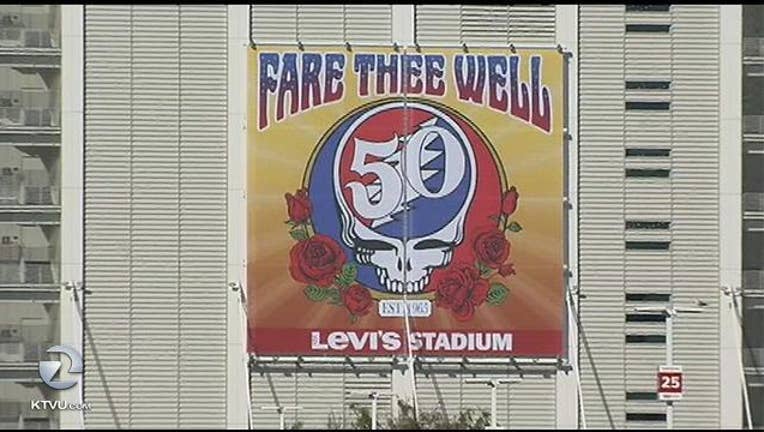 article
Surviving members of the Grateful Dead enjoyed their final jam on a Bay Area stage Saturday and Sunday nights at Levi's Stadium.
Next, they head to Chicago for three shows July 3,4, and 5, which they insist will be the last time they play together anywhere.
Fans who turned the football venue into a sea of tie-die felt blessed, or more accurately, blissed, to be there.
"Like a laser beam, unbelievable, unbelievable," exclaimed Jasmine Baldwin of Fort Collins, Colorado, who attended both Santa Clara shows.
She was still marveling at the rainbow that appeared over the stadium midway through Saturday's concert.
"Everyone was losing it, like my mouth was hanging open," she recounted, "and I looked around and everyone else was amazed too, shouting 'look at the rainbow!'"
Billboard magazine cited a source inside the production who said the rainbow was a special effect that cost the band $50,000.
Deadheads preferred other explanations.
"We are all Jerry. Jerry was there last night," George Wardlow of Santa Barbara told KTVU, "That's where the rainbow came from. We have Jerry and the band and all of us together".
Wardlow estimates he and his wife have seen 150 shows, before and after lead-guitarist Jerry Garcia's death, and they plans to be at all three Chicago shows as well.
The Grateful Dead songbook is vast, but for the "Fare Thee Well Tour", the set list includes some of their oldest and most-loved tunes.
And the two concerts, even with a one hour intermission, have each been more than three hours long.
"I was given a little pill as I walked in the gates," fan Darrell Cox of San Francisco told KTVU, recalling dropping acid at his first Dead show as a teenager.
"When I heard the sound, I ran up to the stage," he enthused, "and I was right there in the front row. It was Eugene, Oregon, 1982. August 28th, and it profoundly changed my life."
How was it life-changing? That's harder to explain.
"It's like a religion, you either got it or you don't get it" Cox elaborated, "you get on the bus and you never want to get off."
But soon the bus will stop for good. The musicians will continue to play in other bands, but never again as the Grateful Dead.
Bay Area fans can still catch Bob Weir and Phil Lesh onstage occasionally at their Marin nightclubs, the Sweetwater Music Hall and the Terrapin Crossroads, respectively.
But experiencing the songs and the spirit live, with a resurrected band, is a memory to savor even for the youngest fans.
"My friend bought a greatest hits album when we were thirteen and they really stuck with me, " 23 year old fan Ryan Tierney of upstate New York told KTVU.
"It was just different. It has a relaxed sound, very soothing and easy to listen to."
Soldier Field in Chicago is the last venue the band played before Jerry Garcia's death in 1995.
The three shows there are sold out, as the Santa Clara concerts were, although at show time Sunday, many tickets were being hawked at less than face value in the stadium parking lot.
Sellers were even giving away seats that had no view of the stage, but sold originally for $80.