Deadly hit and run victim remembered as warm and kind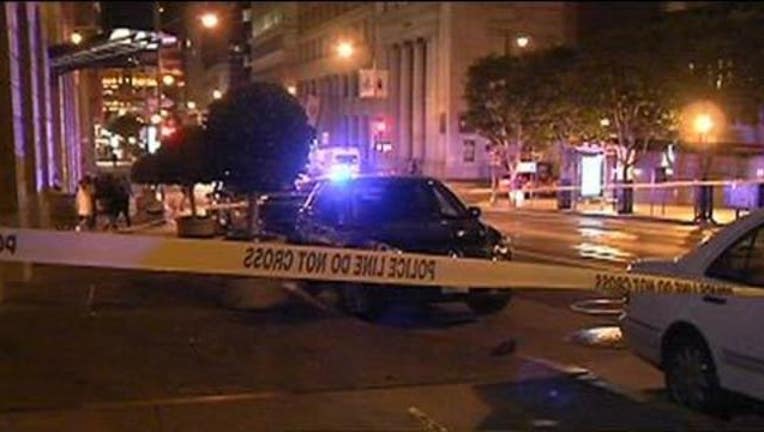 article
San Francisco Police Chief Greg Suhr called the out-of-state family of a woman killed during a police pursuit, to express department condolences.
42 year old Bridget Klecker died Friday evening after being hit in a crosswalk in the financial district, by a car full of suspected armed robbers, fleeing police.
A chilling radio call comes just a few blocks into the chase.
"I need an ambulance code three," an officer is heard telling dispatch, "the suspect hit this person, and she went flying."
Klecker died at San Francisco General Hospital.
She worked for a food service company, Bon Appetit Management, and ran several cafes at Google headquarters in Mountain View.
"It's just surreal," longtime friend and roommate Sam Rosoff told KTVU, outside the home they shared in the Sunset district. "This house is full of her stuff. It's hard."
Rosoff said Klecker had dinner plans Friday evening, and by 10pm, was probably making her way back to her car, to head home.
"She was one of the kindest, warmest persons I've ever known," said Rosoff. "She didn't have a mean bone in her body. She was super nice. She would help anyone."
After hitting her, the stolen Toyota Corolla, with as many as four men inside, sped toward Union Square and struck a second person, who was not seriously hurt.
Then South of Market, the driver ran a red light and hit a car full of people; again, everyone escaped injury.
"The streets are congested and every single pursuit that is initiated does go under review, " SFPD spokesperson Officer Grace Gatpandan told KTVU, "but the suspects inside the vehicle were armed and they did commit numerous violent felonies."
The men were being chased in connection with several street robberies the same evening, and others spanning the previous three days.
They'd done their last hold-up, at Clay and Larkin on Nob Hill, when an officer spotted the group and tried to pull them over.
"As soon as we lit the car up, and it took off right away, literally within seconds it struck the pedestrian," explained Officer Gatpandan.
Early in the chase, the suspects threw two handguns from the vehicle, which were recovered.
After they eluded the cops, they ditched the car on Treasure Island. Police swarmed the area, and searched, but the men were gone.
"I think police shouldn't do chases," observed Klecker's roommate, although he also figures the robbers would have been reckless even if they weren't being chased.
"I don't blame the police because even if the police stopped, the car would have kept going," he said sadly, "it's not going to start obeying traffic signs because the cops aren't behind it anymore."
Bridget Klecker moved to San Francisco from Maryland twenty years ago, and unabashedly loved her adopted city, and rooting for the Giants.
In her room, Rosoff showed KTVU some of the baseball memorabilia she's collected from games.
In response to Chief Suhr's phone call, Klecker's distraught father apparently asked that SFPD do all they can to find and arrest those responsible for his daughter's death.