Delivery truck burglarized in Berkeley in broad daylight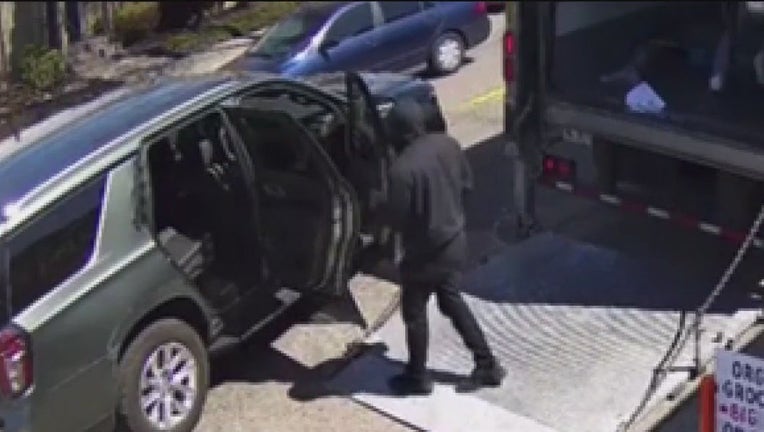 article
BERKELEY, Calif. - Surveillance video from Cedar Market in North Berkeley captured the moment a delivery truck was burglarized on Wednesday just after 12 p.m.   
Video shows the truck parked next to the entrance of the store with the ramp down when an SUV pulled up behind it. 
Masked suspects got out, cut the lock, and stole the items inside. Police say they got away with more than $5,000 worth of cigarettes. 
"I was shocked. I was really shocked. Because this is kind of a safer neighborhood," said Preet Kaur. 
Preet and her husband Gary Singh own the store, which is located on the corner of Cedar Street and California Street. They were not there when the incident occurred but told KTVU they believe the suspects followed the vendor from a wholesale store in San Leandro and then waited for an opportunity to grab the items inside the truck.  
"They came, and they had the tools ready," said Preet. "That means they were ready to do this kind of thing."
FOR MORE: Mayor Sheng Thao's vehicle among those broken into near Oakland's Grand Lake Theater
"They need to be taught a lesson that this is not acceptable in our community," said Gary.
Gary also said he wants to get the word out to the community. He is also demanding action from the police. 
"They blocked all the traffic both ways, and they just did their thing. And if you look at it, they don't seem to be in a rush. They just took their time," said Gary. "It's like law and order is a joke right now I think."
The Berkeley Police Department called this an active investigation. So far, officers have made no arrests. 
Nobody was hurt, and it's unknown if the suspects were carrying weapons. 
Customers we talked to called this crime upsetting. They said this is a quiet neighborhood. 
"I wouldn't expect anything like that to happen," said customer Charles Devine. "But you never know. You have to be careful."