Dodgers series wakes up slumbering Giants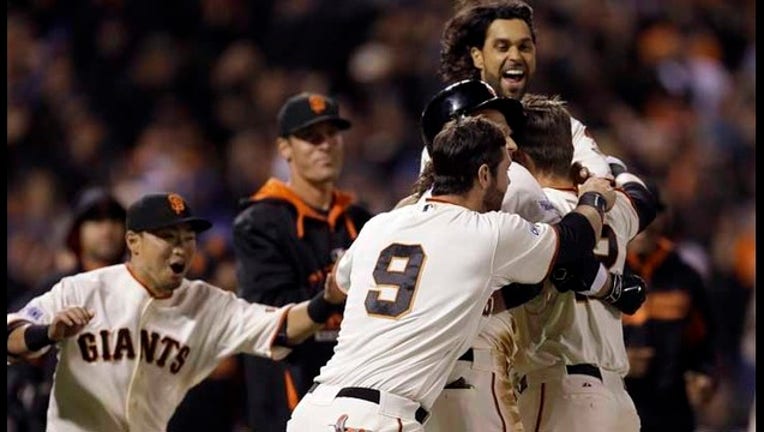 article
SAN FRANCISCO (AP) -- The way Don Mattingly saw it, pinch-runner Gregor Blanco was stopped by his third base coach, should have been called out on interference and never in position to score the winning run.
Third base umpire and crew chief Fieldin Culbreth let Blanco stay on third despite Mattingly's argument, Joe Panik hit a game-ending sacrifice fly moments later with the Dodgers in a five-man infield, and the San Francisco Giants edged Los Angeles 3-2 Wednesday night.
''They missed the call basically. I don't know who was supposed to be watching but they weren't watching,'' Mattingly said. ''He didn't see it. He was watching the play. I don't know why the third base umpire's watching the play. ... It's not reviewable.''
Culbreth said if third base coach Roberto Kelly ''doesn't physically assist him in returning to the base, there's no interference.''
''Don came out and asked me did I see him grab him? I told him, 'No, I did not see him grab him,''' Culbreth said. ''There ends up being contact but the rule is pretty specific in the fact that he had to touch and physically grab him and assist him in returning to the base. That did not happen.''
A single by Brandon Belt loaded the bases with one out, and prompted Mattingly to argue that Kelly improperly made contact and stopped Blanco at the bag. Blanco insists he had already stopped before running into Kelly.
''It wasn't like he stopped me. I was stopping on third,'' Blanco said. ''I don't feel he was stopping me at all.''
After the delay, Panik delivered a long fly off J.P. Howell that easily scored the winning run as the champion Giants wound up posting back-to-back wins for only the second time this season.
''My first reaction was, 'Now I know what an NFL kicker feels like getting iced at the end of the game,'' Panik said. ''It showed a lot of character for this team scrapping out a win against Kershaw.''
Reigning World Series MVP Madison Bumgarner and current NL Cy Young Award winner Clayton Kershaw kept things close, dueling until it became a battle of the bullpens.
Santiago Casilla (1-0) pitched out of a jam with two runners on in the ninth.
''Hopefully this is something that lifts the guys up and just gets us on track,'' Giants manager Bruce Bochy said.
Buster Posey hit a one-out single off Chris Hatcher (0-2) to set up the deciding run. Hatcher then plunked Justin Maxwell. The ball came off Maxwell, then hit catcher A.J. Ellis' mask and deflected off his right hand.
Trainer Stan Conte checked on Ellis, who tried to make two throws and tossed both wildly into right field. Yasmani Grandal replaced Ellis and Howell entered to pitch. Mattingly expected Ellis to have X-rays.
The Giants led 2-0 before pinch-hitter Alex Guerrero's tying homer in the seventh chased Bumgarner.
Kershaw, who's won the last two NL Cy Youngs and three overall, allowed two runs on three hits, struck out nine and walked one in six innings. Guerrero batted for him in the seventh and connected for his second pinch-hit homer of the season.
''I get tired of going six innings. Obviously if we're going to keep getting two-run pinch-hit home runs I understand but I want to get deeper in the game,'' Kershaw said. ''It's frustrating leaving that many innings to your bullpen.''
Bumgarner, winless in three starts since a victory on opening day at Arizona, gave up six hits in 6 1-3 innings. He struck out six and walked two.
It marked the first time the reigning regular season MVP opposed the last World Series MVP in a matchup of starting pitchers, according to STATS.
Bumgarner didn't get into the hype of facing Kershaw.
''It's always fun playing the Dodgers - no more than usual,'' he said.