Dog owners protest plan for Golden Gate National Recreation Area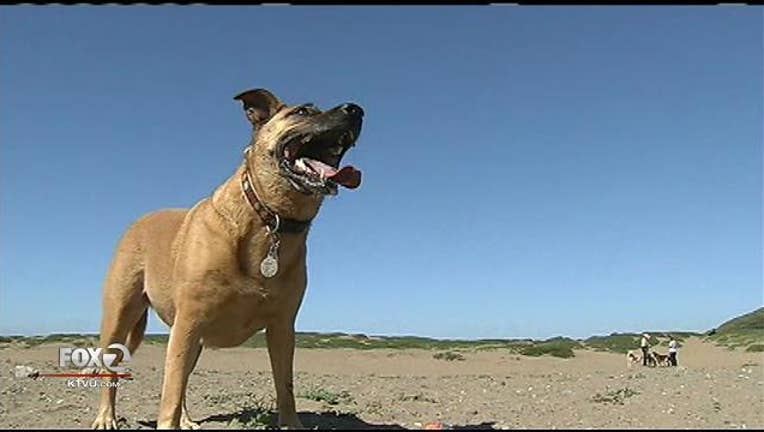 SAN FRANCISCO (KTVU) - About 20 members of "Save Our Recreation," along with some four-legged friends, rallied Wednesday outside the National Park Service's San Francisco office.
They are angry about the recently approved master plan that governs the Golden Gate National Recreation Area.
The GGNRA includes about 80,000 acres of parkland stretching from San Mateo County to Marin County that gets 15 million visitors a year.
"This is changing an area that was supposed to be a recreation area into an area that's managed not to have people there anymore," said Save Our Recreation member Andrea Buffa. "We haven't been able to get the National Park Service to listen to us, they won't meet with us."
Save Our Recreation and Bay Area politicians are particularly upset about a separate plan to manage and/or limit on and off-leash dog activity at sites including Fort Funston in San Francisco.
"It is closing off 90 percent of the GGNRA for the kind of recreational use that we as urban dwellers expect. So 90 percent of the GGNRA is not going to be available for you to walk your dog in Fort Funston," San Mateo County Congresswoman Jackie Speier told KTVU Wednesday. "You can't place restrictions on an urban national park like you can place them on Yosemite or Yellowstone."
San Francisco politicians have argued proposed dog restrictions in the national park will lead to city parks being overrun with dogs.
A draft on dog rules is due early this spring and Speier said she's planning meetings in Washington, D.C. between Save Our Recreation and the various committees that oversee the National Park Service.
GGNRA spokesman Howard Levitt says the plan strikes a balance between people, pets and park resources.
"Throughout the park, dogs will be welcomed by and large. There's some areas for reasons of sensitivity will be restricted," said Levitt. "If someone contends that recreation's not part of this plan, my suspicion is they haven't read the plan."