Driver in Christmas Eve crash that killed CHP officer moved from hospital to jail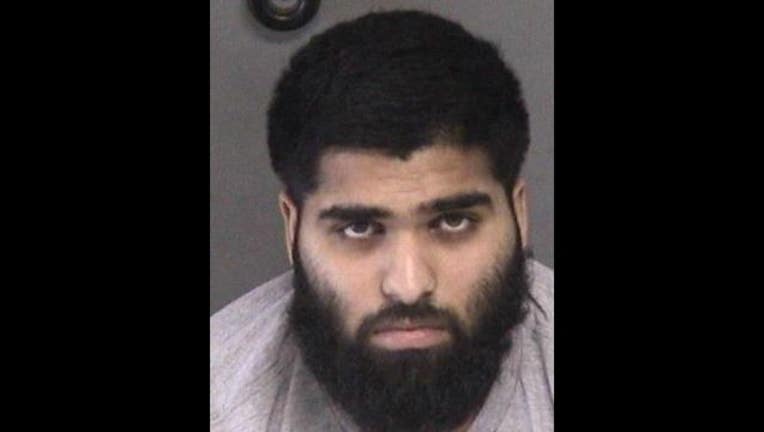 article
ALAMEDA COUNTY, Calif. (KTVU) - The driver in a Christmas Eve crash that killed CHP officer Andrew Camilleri on I-880 in Hayward has been released from the hospital and is now being held at Santa Rita Jail. 
The driver, identified as 22-year-old Mohammed Abraar Ali of Hayward, was charged with murder and driving under the influence in the crash that killed CHP officer Andrew Camilleri on I-880 in Hayward, Alameda County District Attorney Nancy O'Malley announced last week. A new mugshot of Ali was released Friday. 
Ali was driving more than 100 miles per hour when he rear-ended the CHP patrol vehicle, according to the criminal complaint. 
Last Tuesday authorities with Alameda County announced Ali was charged with five felony counts including 2nd degree murder and driving under the influence of a combination of marijuana and alcohol.
According to the criminal complaint, witnesses saw the Cadillac Ali was driving traveling at a high rate of speed and aggressively weaving through traffic. Preliminary black box analysis of the Cadillac showed a speed of 120 mph before the crash, according to the complaint. 
As Ali was speaking with paramedics at the scene, he admitted to ingesting marijuana, according to authorities. When Ali arrived at the hospital his blood was drawn and forensic lab analysis indicates his blood alcohol content was 0.11% at the time of the draw. 
Ali was interviewed following the crash and admitted to driving while impaired by both alcohol and drugs. He told investigators he had threatened his wife on December 24th before driving from Manteca to Hayward where he collided with an "unknown object," according to the complaint. "Ali further related that he knew while driving on the night in question not only was he impaired but that he should have pulled over at least three times but did not and made the decision to keep driving," according to the complaint. There is video evidence showing Ali driving at a high rate of speed.
Immediately after the crash that killed officer Camilleri, Ali was taken to the hospital, where he is still hospitalized. He's expected to be released within the next 48 hours. 
CHP says on Christmas Eve Officer Camilleri and his partner were parked on the shoulder of Interstate 880 in Hayward looking out for reckless or impaired drivers as part of CHP's maximum enforcement effort. Before midnight, a red Cadillac struck the officers' patrol car from behind.
Officer Camilleri was killed. His partner, Officer Jonathan Velasquez, was also injured but was released the next morning from the hospital. 
On December 26, a procession of law enforcement escorted the body of officer Camilleri from the coroner's office in Oakland, 50 miles across Interstate-580 to his hometown of Tracy. He was 33 years old and left behind a wife and three children.