Dub Nation subdued after Game 6 loss to Kings at Chase Center
SAN FRANCISCO - San Francisco's Chase Center emptied out quickly and quietly after the Golden State Warriors lost to the Sacramento Kings Friday night. 
Fans had expected the Warriors to clinch the series, but now they're banking on the team's experience to win Game 7. 
The pivotal loss marked the end of a three-game winning streak. It was a rare home-game loss for the Warriors. 
Now the Dubs head back to Sacramento for the do-or-die game. 
The stage was set for the Warriors to close the series out in six, but instead they came out lethargic and sloppy in what was one of their worst home playoff games in recent memory. 
Prior to the game, Stephen Curry was knocking down threes from half court. 45 minutes before ripoff, the building was basically still empty.
Dub Nation was subdued after the loss. 
"Totally disappointed as a Warriors fan," Heavenly Vauss, a fan from Hayward said. "Totally disappointed." 
But there is still optimism for Game 7. 
"We're not worried about this. We're going to win Game 7. We're going back to Sacramento. We're going to tear them up. It's all good," said Spencer Vauss. 
Fans say they're betting on the Warriors' experience, since this is the Kings first playoff experience in a long time. 
"Road games are always a worry for us this year. But I think we got this. We've been here before. They haven't been in playoffs for 16 seasons. I think we got it," said Jeremy Smith, a Warriors fan from Pacifica. 
The electricity inside Chase Center was initially palpable as Dub Nation made playoff noise. 
"I love being a part of this community. I cheer for the Warriors through thick and thin, but of course, when we're on our way to the next round of the championship, you can't help but feel that Warrior spirit," said Lindsay Taylor, a Dubs fan from San Francisco.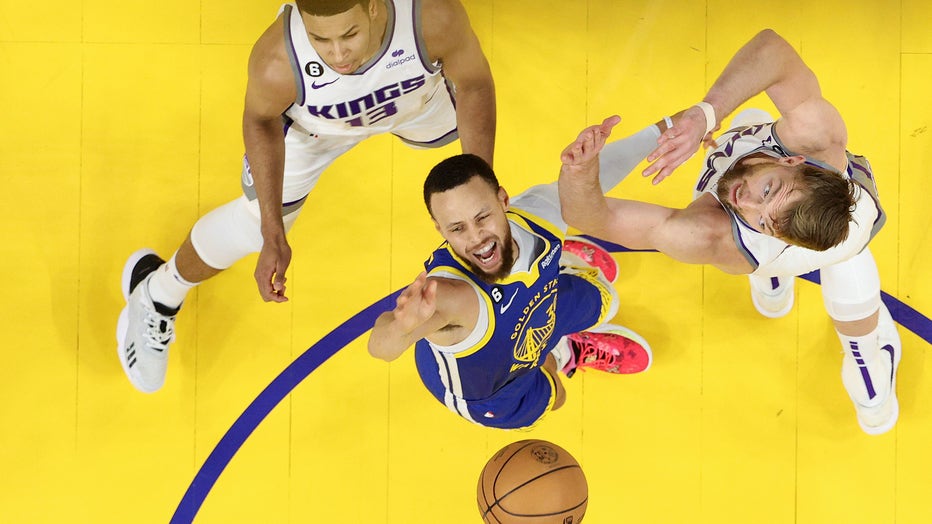 SAN FRANCISCO, CALIFORNIA - APRIL 28: Stephen Curry #30 of the Golden State Warriors goes up for a shot on Keegan Murray #13 and Domantas Sabonis #10 of the Sacramento Kings during Game Six of the Western Conference First Round Playoffs at Chase Cent
One man said, while he's from Sacramento, his allegiance is with the Warriors. He wore his custom-made shoes in honor of his team. 
"They just do things other teams can't do, it seems like. They can be down 15, 20 points. Then they get the run going and it's a done deal," said Kenneth Burden of Sacramento. "They've done that many times this year." 
Burden is optimistic they can make it to the finals as long as nobody gets hurt. 
Two brothers said they flew in from Florida just for this game. They said they paid $900 each for tickets for the first Warriors game they've ever attended. 
"I came out here because I love the Warriors!" said Matt Ferrara, a Warriors fan from Florida. When asked what he loved so much about them, he said, "Everything. I love Steph Curry. I love Thompson, Draymond Green, the big three. That's what gets it done. The championship team right there." 
"It's going to be fun times on Sunday and Draymond is going to do the great work that he does – especially now we need him," said Bernardo Costa of Tiburon.
"We won in Sacramento. We can do it again," said Mateo Rios, a Warriors fan from Pacifica.
We asked about his confidence level. "Oh, I'm confident. Til that final buzzer buzzes. I'm confident." 
Game 7 will be back in Sacramento Sunday at 12:30 p.m. Warriors will host an outdoor watch party at Thrive City outside the Chase Center. Fans are welcome starting at 11 a.m. Reservations are still available online.