Early snowfall: First 'measurable' of snow of the season to hit the Sierra this week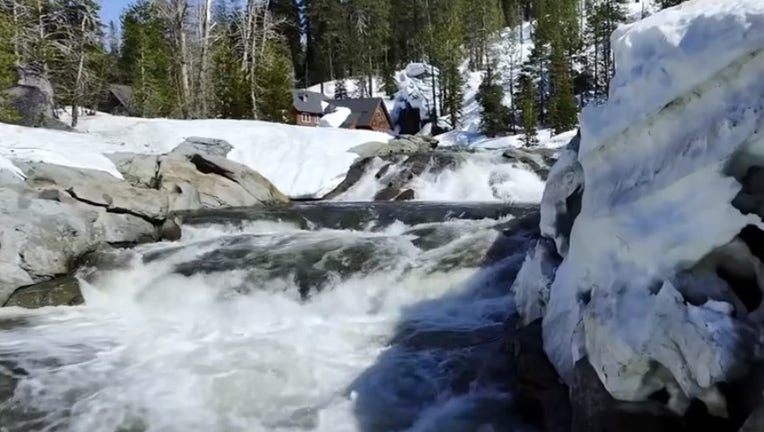 article
SODA SPRINGS, Calif. - After record snowfall in the Sierra last season, it appeared the region would be getting an early start on the snow with the first notable amounts expected this week.
Two cold fronts to hit the Bay Area were expected to produce snow in the Lake Tahoe area.
"There's a tweak on Wednesday, the start of a cold wintry system but a dry, unusually cold air mass," explained KTVU Chief Meteorologist Bill Martin, who added that there will then be another one Friday.
SEE ALSO: Hurricane Norma makes landfall near Mexico's Cabo San Lucas as a Category 1
The cold front could bring overnight lows to the North Bay Valley down into the mid-to-upper 30s and low 40s on Friday night-Saturday morning.
For the most part, it's expected to be a dry system here in the Bay Area, with a slight chance of sprinkles on Friday. 
But in the Sierra, Martin said that meant snow was expected at above the 6,000-foot level. 
On Monday, the UC Berkeley Central Sierra Snow Lab shared a satellite model from weather data site, "Pivotal Weather," and posted, "THIS IS NOT A DRILL! We have our first measurable #snow in the forecast later this week." 
Earlier this month, the lab posted images from a fixed camera at its site showing a light dusting that had stuck to the ground. 
"It doesn't officially count as our first day of snowfall, which requires a measurable amount of accumulation," researchers said on Oct. 12, noting, "Here at the lab, we use a minimum of 0.5cm (~0.2") of snowfall for it to be considered." 
It was still too early to determine how much snow would fall this week, but the first measurable amount forecasted was notably early.
"Around Thanksgiving is when things start to happen for us," KTVU's meteorologist said. "We're two to three weeks, maybe a month ahead of the snow progression," he noted, and added that the rain that hit the Bay Area on Sunday was pretty early and atypical for this time of year. 
When asked about how the forecasted strong El Niño winter could affect rain and snowfall, Martin said, "Above average rainfall is typically what we have found, and a lot of snow at higher elevations, because it's warmer."
The meteorologist said that the weather phenomemon would bring a temperature increase in the Equatorial Pacific. "It's a degree or two warmer than typical," Martin said, explaining that will lead to more moisture.  "So it's basically injecting steroids into our weather system. It's fuel," he said. 
Last season, the Sierra saw record snow-- more than 700 inches, according to the UC Berkeley Snow Lab. Several Sierra ski and snowboarding resorts took advantage of the windfall from Mother Nature, staying open into the summer.
And while the snow expected this week was early for the season, experts said it was not necessarily an indication that we'll see more records this winter. 
"It's hard to apply a climate stamp until you look back at it," Martin said, "Over the course of six months, you can look back and say it was a part of this, but you can't make connections as it's happening."
This story was reported from Oakland, Calif.