Elderly San Leandro woman hit and killed by car
SAN LEANDRO, Calif. - A tragic incident Saturday morning in San Leandro claimed the life of an elderly woman crossing in a residential area. 
It happened around 10:15 a.m. while she was crossing Spring Lake Drive.
Sara Balibrera was comforting her uncle who was in shock after his wife was hit and struck by a car, which was reported by witnesses to be speeding when it collided with the small 83-year-old woman who was knocked out of her shoes and flew a few hundred feet down the roadway. 
"This was a hit-and-run! Not an accident! The driver kept going," said Balibrera.
A woman, who did not want to be identified, ran to help after she said she heard the hard impact of the car hitting the woman. 
"I came out and saw her body on the floor, I called 911, checked her pulse, and didn't feel anything," she said.
Other neighbors identified the vehicle as a gray BMW sedan. 
The driver is seen on a neighbor's surveillance video driving away, without checking on the victim who dented the front of the car's hood and shattered the windshield when she was hit. 
A white van followed the driver a few blocks, where police caught up with the person.  
San Leandro police shared in an email, the driver was cooperating with investigators and alcohol was not suspected to be related to the incident.
Neighbor Brooke Noble says speeding cars fly down this road frequently, and there's not a crosswalk where the elderly woman was fatally struck.  
READ ALSO: Suspect accused of 2 deadly shootings in San Leandro gym parking lot
"There should be. There's a lot of people, kids everywhere in our neighborhood, walking, running around everywhere," Noble said.
Noble is upset by the way drivers speed down the four-lane boulevard that. 
Multi-unit apartment buildings line both sides of the four-lane boulevard that is divided by a center median. But the closest crosswalk for pedestrians is about a block away. 
"No crosswalks, no speed bumps, it's not good," Noble said.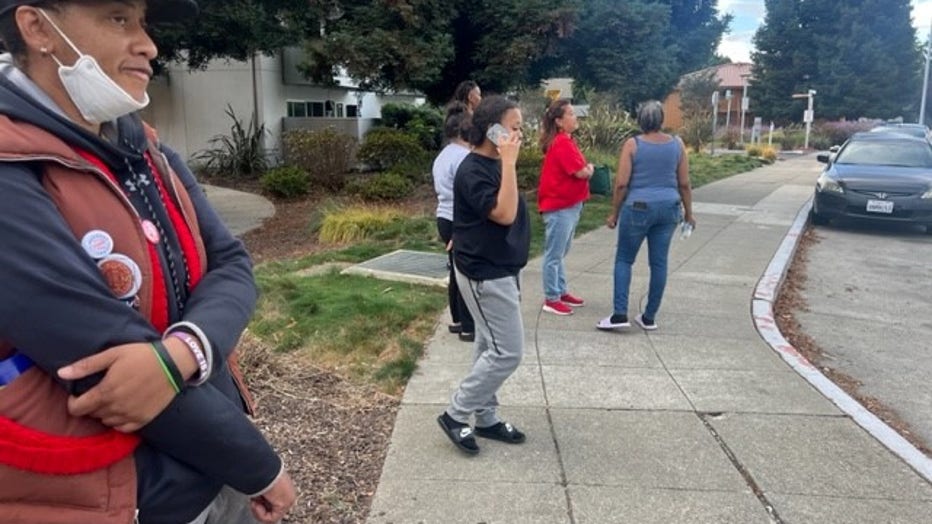 Neighbors mourn an elderly San Leandro woman hit and killed by a car (Alice Wertz)
Noble would like to see the driver get cited or arrested, saying, "Obviously, he's doing all kinds of criminal acts and not getting caught for them. At least reckless driving, and not just that, but how many other people has he hit and kept going?" 
After a neighbor called him about the tragic traffic fatality, Bryan Azevedo, vice mayor San Leandro came by the scene to offer support. 
"It's really bothering to the community. Cars just keep flying down here, and we don't have any crosswalks, I'm going to be advocating that we get crosswalks," said Azevedo.
He also said the street is known for speeding, even though the speed limit is 35 mph. 
"The cars just fly through here at 60, 70 mph; so maybe we need to lower the speed limit," he said.
He was invited into a neighbor's home with the husband and niece of the victim. 
He saw the surveillance video that captured the scene, saying, "I saw the footage, I saw it, and the car was flying by, and the lady did fly in the air, and we believe she died on impact. I just really feel for the family, it's such a tragic way to lose someone's life this way."
A spokesperson from the police department is urging any witnesses or anyone with information about this incident to please notify its traffic department at (510) 577-3208.
Alice Wertz is a freelance reporter for KTVU. She can be reached at Alice.Wertz@Fox.com X/Twitter: AlicesTake Instagram/Threads: WayIseesIt