Endangered frogs released into wild as part of restoration project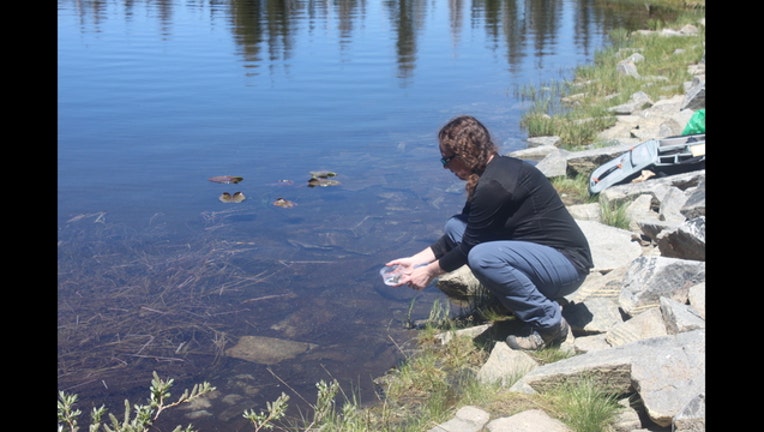 article
SAN FRANCISCO (KTVU) - Dozens of rare frogs raised by staff at the San Francisco Zoo were released into their wild habitat Tuesday as part of an ongoing effort by the zoo to help restore the endangered species.
Led by a team of biologists, scientists and conservationists from the zoo, the group released 62 mountain yellow legged frogs into the Desolation Wilderness, a federally protected wilderness area in El Dorado County, according to the zoo.
42 of the frogs were released into the Tamarack Lake, while the remaining 20 were released into nearby Lake Lucille, zoo officials said.
The now two-year-old frogs were initially collected as eggs in 2014 from a nearby lake system and raised at the zoo, with the purpose of later being redistributed into the wilderness area, according to zoo officials.
The species had been missing from the area for decades, due to non-native predators as well as chytrid fungus, a fungus capable of killing amphibians. Chytrid fungus is responsible for wiping out entire populations of the endangered frog, zoo officials said.
In order to help the frogs survive against future exposure to the fungus, zoo scientists inoculated the frogs with the chytrid fungus. Additionally, the 62 frogs have been micro-chipped so that researchers can continue to study the results of the inoculation, compared with frogs that have not been inoculated, zoo officials said.
The recent restoration was part of a larger project by zoo officials. At least 100 more mountain yellow legged frogs will be released at the Sequoia and Kings Canyon National Parks next week, according to zoo officials.
Releasing the frogs into their native habitat is amazing!" the zoo's Director of Conservation Jessie Bushnell said in a statement. "It's like sending your children off to college, except you want them to swim away and catch a bug."