'I'm not a monster,' San Jose officer testifies in exclusive video before allegedly sending racist texts
SAN JOSE, Calif. - KTVU has obtained exclusive video of former San Jose police officer Mark McNamara being deposed as part of a federal suit against him and the city after he shot and wounded a football player four times outside La Victoria Taqueria in March.
The deposition paints a picture of a calm, professional -- albeit slightly annoyed – police officer answering legal questions and expressing regret about shooting K'aun Green last spring. But it stands in stark contrast to racist messages he allegedly sent shortly after testifying.
"You know, every time I've ever had to use force on somebody, it makes me feel bad," he testified in June. "I don't I don't like hurting people. I'm not a monster. I'm human being just like everybody else in this room. Hey, I'm sorry. It's a bitter part of my job. Sometimes it has to be done as far as Mr. Green. So if you're telling me that Mr. Green was not related to the homicide. Yeah, that's. It's very unfortunate."
In private exchanges hours after he gave his deposition, however, McNamara used the N-word. 
"The other day this [N-word] lawyer is like Mr. McNamara, you know we can still find you guilty of excessive force right?! I'm like, hmmmm yeah then what happens?? Nothing?? Cool. Cuz I'm pretty sure the district attorney would have charged me if I used excessive force but she didn't because I didn't use excessive force. Think I give a fuck what y'all [N-word] think!??? I'll shoot you too!!!! AHHHHH!!!" McNamara wrote.
WATCH: A sampling of Mark McNamara's civil deposition
The San Jose Police Department's police chief released this and other messages that McNamara allegedly wrote soon after the shooting and then again after being deposed in a lawsuit that claims he used excessive force by shooting Green. McNamara resigned from the police department on Friday, hours before the texts became public. Chief Anthony Mata called the texts "disgusting."
During the deposition, McNamara even said he would apologize to Green who was shot after wresting a gun from an armed person in the restaurant. 
"If he was here right now, I would say I'm sorry," McNamara testified during the deposition. "I would apologize to every single person I have. You go through my body worn camera. I've apologized. I apologize. Almost everybody. I use force. I don't like doing it. It doesn't make me feel good."
But in texts shortly on the day of, and two days after, the deposition, McNamara said Green and his lawyers should thank him because they stand to receive a large payment from the city to compensate for the shooting.
"There was like 65 African lookin mother fuckers there too. All just mean mugging me and taking notes. They should all be bowing to me and bringing (me) gifts since I saved a fellow [N-word] by making him rich as fuck. Otherwise he woulda lived a life of poverty and crime."
Meanwhile, the city of San Jose on Wednesday recused itself from representing McNamara in the civil excessive force suit against him. He must now find his own attorney. He was not present in court and KTVU has been unable to contact him for comment.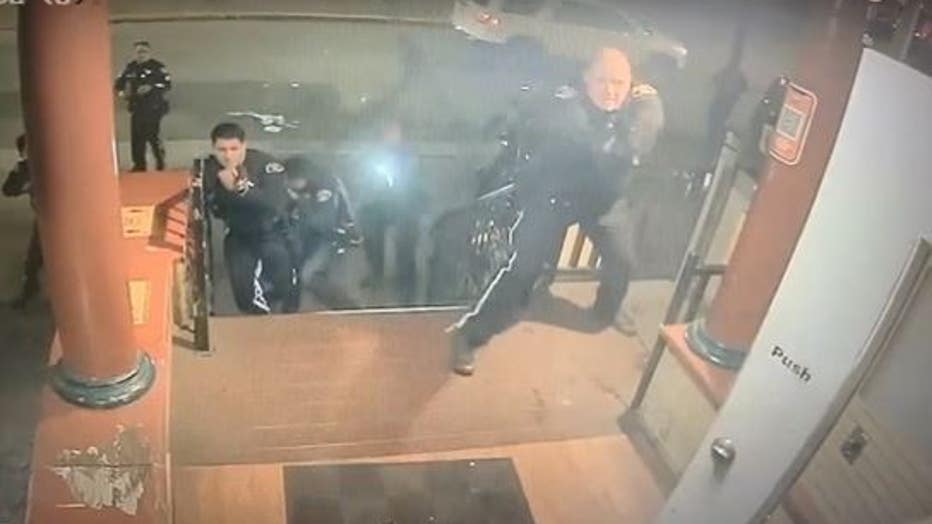 Former SJPD officer Mark McNamara during the La Victoria Taqueria shooting in 2022. 
As the department has maintained all along, McNamara, the sole officer who shot at Green, reiterated that he felt the situation was chaotic and that Green could have been linked to a homicide around the block 30 minutes earlier.
It turned out that McNamara and the department were wrong.
Green had been inside the taqueria when a brawl broke out. Green ended up wrestling a gun away from an armed drunk customer who wanted to fight him and was exiting the restaurant with the confiscated weapon in his hand when McNamara ordered him to drop it.
"N- wanted to carry a gun in the Wild Wild West," McNamara texted the day after the brawl at La Vic. "Not on my watch haha"  
McNamara called both Green and his lawyers the N-word several times, and in one text in July, simply wrote "I hate black (sic) people," according to the San Jose Police Department.
Police have not said who McNamara was texting, other than a former SJPD employee and a current one, who is now on administrative leave. 
Green's attorney Patrick Buelna, who questioned McNamara during the deposition, said when he saw the texts for the first time last week, it just "confirmed for me what was going on inside of him. He didn't care about K'aun. He was living out his fantasy of shooting and killing Black men."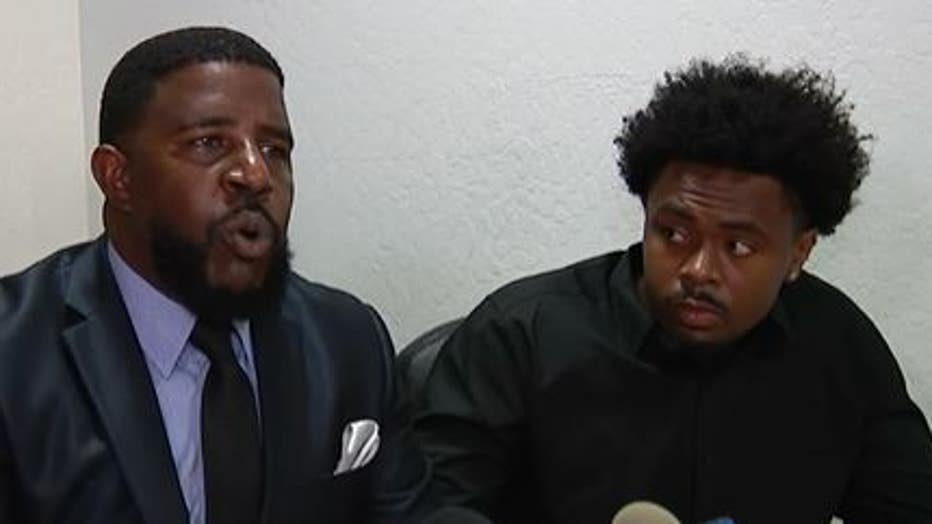 K'aun Green and his lawyer speak to reporters November 5, 2023 for the first time since the racist text scandal dropped.
Buelna and his colleagues, Adante Pointer and Angel Alexander, are going to ask the California Attorney General to consider filing hate crime charges against him. They will also appeal to the state Commission on Peace Officer Standards and Training, to decertify McNamara from ever becoming a police officer again.  
To this day, no one from the San Jose Police Department has apologized to Green or altered their narrative about what happened. 
That fact was reiterated in federal court on Wednesday, when U.S. District Court Judge Nathaniel Cousins asked the city to apologize for the "vile" texts, which they did not.
The deposition unearths a few new facts about the case: McNamara's body camera wasn't charged and therefore not on during the shooting, he had worked two consecutive overtime shifts with little sleep and he possibly didn't get the full use-of-force training because he had been on disability for a year and a half.  
At another point in the deposition, McNamara stood by his actions at the taqueria and said that police officers who second guess themselves will not succeed in the profession.
"You have to understand that people who think like that, who have a heavy remorse after the fact don't usually last in law enforcement," he told Buelna. "So I can't live my life saying, well, now that it's been, what, over a year, almost two years, and we have all of these facts, I can't go back and say, 'Man, I made the wrong decision.' I didn't I didn't make the wrong decision. I took the totality of the circumstances and I acted to the best of my training and knowledge and ability."
Even with the knowledge he has now that Green wasn't involved in a homicide or a suspect at all, McNamara stood steadfast in his belief that he acted appropriately. 
"So you're asking, does it make it worse that Mr. Green wasn't related to the homicide?" McNamara said. "Not for me." 
 Lisa Fernandez is a reporter for KTVU. Email Lisa at lisa.fernandez@fox.com or call her at 510-874-0139. Or follow her on Twitter @ljfernandez