Faith No More marks return with 1st album in 18 years, tour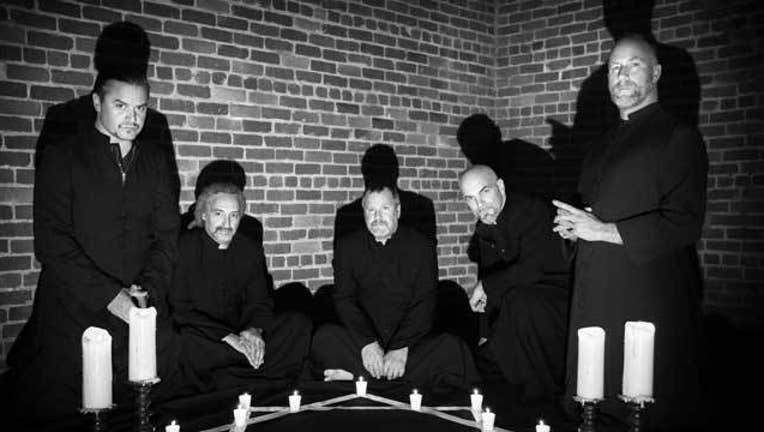 article
NEW YORK (AP) — Faith No More bassist Bill Gould likes to think of the band's new record as an aging actress.
"Sure, her body's getting a little older, but she's not afraid to show it; she's still sexy," he said during a recent interview in New York City, where the band played two sold-out shows in support of "Sol Invictus," its first in 18 years released last week.
"When you're younger and you're insecure, in a way you don't have the mojo, the juice, you know," he said.
The 52-year-old Gould and the rest of his bandmates — keyboardist Roddy Bottum, drummer Mike Bordin, guitarist Jon Hudson and singer Mike Patton — disbanded in 1998 and spent some time apart before regrouping in 2009 to play reunion shows. That hiatus, together with the musical legacy they built during the late 1980s and 1990s with albums like "The Real Thing," ''Angel Dust," and "Album of the Year," has given them the confidence and perspective to re-launch their collaboration on their own terms.
They briefly considered returning to a major label, but ultimately decided to forgo external deadlines and pressures and instead handle everything themselves.
"Sol Invictus" was engineered and recorded by Gould in his studio space in Oakland in 2014 and 2015, and is being released on Reclamation Recordings, a subsidiary of Patton's own Ipecac Recordings label.
"We've all kind of grown into parts where we can actually contribute now in our own capacity," Gould said. "We all kind of got good at what we did in different ways and it all kind of helps the whole."
For a band that once briefly flirted with the mainstream following the success of the catchy, rap-meets-metal mega-hit "Epic," having the freedom to dictate whether they put out a record, tour or make an appearance at this point in their lives is a top priority.
"An old man only looks to the next day," the 47-year-old Patton said. "We're old men.
"So what you do is, you look to the next day or the next plan, and, honestly, we don't have a plan after this tour or this record."
In a wide-ranging interview, Patton and Gould discussed the origins of the new album and the challenges of not being a normal band.
___
YOU'RE A WEIRD BAND
Even at the height of their popularity, Gould said the band was always wary of overstaying their welcome at Slash/Warner Bros.
Gould: We were always told, "Failure is just right around the corner. You're a weird band. You don't make radio-friendly music and you're not going to survive unless you keep working."
Bordin: "You're going to lose your house."
Gould: I took that to heart. I totally was terrified back then.
Bordin: I wasn't. But I took it as a threat. OK, someone's coming after me. You do what you do, and I think that this record is the best example of doing that. We're just being us. There's no pretentions.
___
REUNION: NATURAL, BUT SURPRISING
"Sol Invictus" was spearheaded by Gould who, unbeknownst to the rest of the band, had been writing and recording new material in his studio.
Patton: I didn't bring any songs or ideas to the record on an elemental level because I didn't know we were going to make a record. There was one night when (Gould) took me over to his house and goes, "Hey, check out this (expletive) I'm working on." But he didn't say it was Faith No More, at least I don't remember it that way. It wasn't predetermined. It's not like we all sat down and went, "Let's make a new Faith No More record." When I heard it, I said, "You got a great new band. Who's going to sing?" He said, "No, I want you to sing." I'm like, "OK, who's playing on it?" It turns out it was a Faith No More record.
___
PATTON THE CRAFTSMAN
One of the hallmarks of Faith No More's records has always been Patton's unmatched voice, and "Sol Invictus" is no exception. His ability to adeptly go from a Sinatra-esque croon to a death metal growl and every other vocal styling in between is in full display on songs like "Rise of the Fall" and "Matador."
Patton: All I do is try and fit into whatever, and this could be Faith No More or any other thing that I've done. "Hey, what's needed?" I'm like a carpenter. I see my job as that. You need some spackle? You need some venetian plaster? Do you need some help with the roof? That's really the only way I see it. I don't think I did anything spectacular on this record. It was what was needed.
Gould: But what he did fit with everything else. We didn't have to do a whole lot to it when we got it. He worked it out so that it all came together, like a craftsman. It wasn't like, "Let's get some ideas and fix them later and make them all fit in." He gave us pretty close to a finished thing.
Patton: Maybe earlier in our days I had agendas like, "Oh, I got to use some weird avant-garde harmonies or whatever." This time, no, not at all. What's necessary, what does the music need? Very simple.