FedEx driver found at fault for deadly bus crash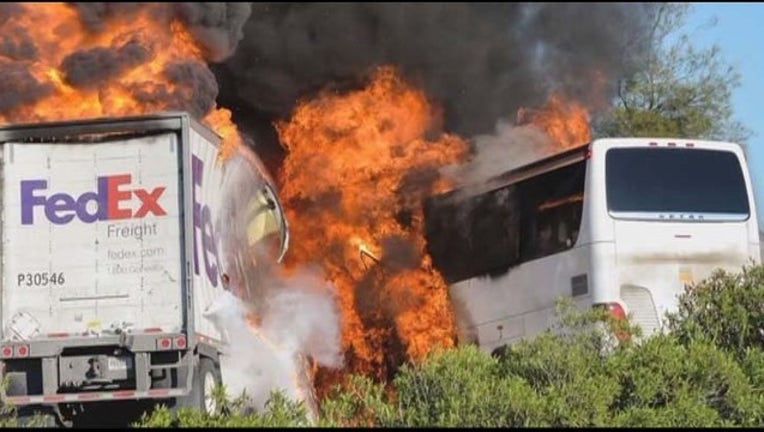 article
LOS ANGELES (KTVU and wires) – California Highway Patrol investigators have determined that the driver of a FedEx tractor-trailer truck was responsible for a deadly bus crash that killed 10 people.
CHP spokesman Sgt. Nate Parsons said the agency's investigation found that 32-year-old Tim Evans did not make any evasive maneuvers before his truck crashed into the bus and the vehicles ignited into a fireball in April 2014.
"He may have fallen asleep, he may have had an undiagnosed medical problem," Parsons said. "We are unable to tell what happened."
The truck's GPS tracking and accident scene evidence showed the vehicle drifted out of its lane and into the path of the bus.
"He made no evasive maneuvers during the collision," he said. "No steering… No braking."
One student seated three rows behind the bus driver said he saw the FedEx driver with his head down and slumped toward the door immediately before the crash.
But Parsons said the investigators could not confirm that.
The FedEx truck barreled across the Interstate 5 median 100 miles north of Sacramento and struck the bus carrying Southern California students on a trip to Humboldt State University.
The crash killed five students, three chaperones, Evans and the driver of the bus.