Feds: 3 accused in Islamic State plot vocal about beliefs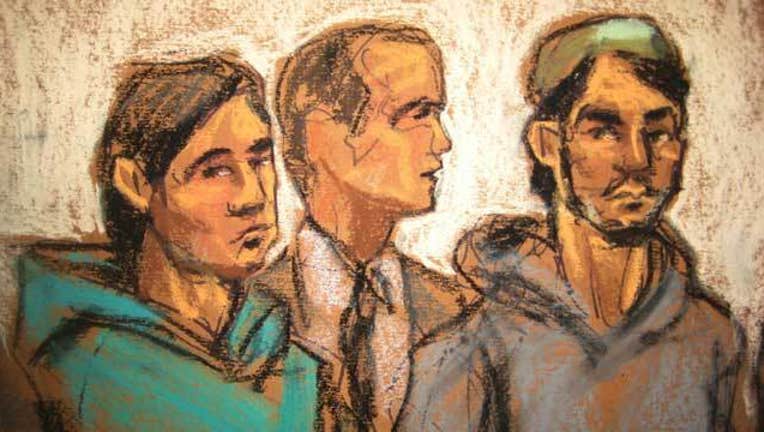 article
NEW YORK (AP) — Two men arrested on charges of plotting to help the Islamic State group were vocal both online and in personal conversations about their commitment and desire to join the extremists, with one of them speaking of shooting President Barack Obama to "strike fear in the hearts of infidels," federal authorities said.
The men were among three charged Wednesday with attempt and conspiracy to provide material support to a terrorist organization.
Akhror Saidakhmetov, 19, was arrested at Kennedy Airport, where he was attempting to board a flight to Istanbul, with plans to head to Syria, authorities said. Another man, 24-year-old Abdurasul Hasanovich Juraboev, had a ticket to travel to Istanbul next month and was arrested in Brooklyn, federal prosecutors said. The two were held without bail after a brief court appearance.
A third defendant, Abror Habibov, 30, is accused of helping fund Saidakhmetov's efforts. He was ordered held without bail in Florida.
If convicted, each faces a maximum of 15 years in prison.
On Thursday, Michael Steinbach, the FBI's assistant director for counterterrorism, told a House committee the case was an example of "what the threat looks like."
In some cases, individuals pursue an "intellectual curiosity" online that leads them to become radicalized or are already radicalized once they turn to the Internet.
Officials are also encountering those who, like the three charged Wednesday in New York, feel thwarted in their efforts to travel overseas and discuss attacks against the U.S. instead.
We're seeing that play more and more often," Steinbach said.
Authorities said Juraboev first came to the attention of law enforcement in August, when he posted on an Uzbek-language website that propagates the Islamic State ideology.
"Greetings! We too want to pledge our allegiance and commit ourselves while not present there," he wrote, according to federal authorities. "Is it possible to commit ourselves as dedicated martyrs anyway while here?"
"What I'm saying is, to shoot Obama and then get shot ourselves, will it do? That will strike fear in the hearts of infidels."
Juraboev was visited by federal law enforcement officials at some point over his use of the website, and told officials he wanted to express support for the Islamic State group, and he mentioned Saidakhmetov as a friend and sympathizer, officials said.
According to the federal complaint, Saidakhmetov said he intended to shoot police officers and FBI agents if his plan to join the IS group in Syria was thwarted.
But Saidakhmetov's mother took away his passport to try to prevent him from traveling, according to the complaint. When he called her and asked for it back, asked him where he wanted to go and he said that a person who had the chance to join the Islamic State group and didn't would face divine judgment. She hung up on him.
Saidakhmetov's attorney, Adam Perlmutter, said his client was a "young, innocent kid" who would plead not guilty.
"This is the type of case that highlights everything that is wrong with how the Justice Department approaches these cases," Perlmutter said. Juraboev's attorney had no immediate comment.
Habibov worked with Saidakhmetov, and helped him get travel documents and a plane ticket overseas, federal officials said.
The 30-year-old had recently been a Brooklyn resident before moving a few years ago and falling out of contact with the borough's Uzbek community, said Farhod Sulton, president of the Brooklyn-based Vatandosh Uzbek-American Federation.
At some point, he stopped coming to Uzbek gatherings, Sulton said, and he was reading extremist literature. "We had a tense conversation about the ultra-orthodox understanding of Islam. I think he got into the wrong hands in terms of learning Islam."
Saidakhmetov is a Brooklyn resident and citizen of Kazakhstan. Juraboev is a Brooklyn resident from Uzbekistan. Habibov had been in the U.S. legally, but his visa had expired. He was appointed a public defender on Wednesday.
The Kazakhstan Ministry of Foreign Affairs said it was aware of Saidakhmetov's arrest. It said he was born July 26, 1995, in the city of Turkestan in southern Kazakhstan, left for Uzbekistan in October 2011 and has not returned. He was not registered at the Kazakhstan Consulate in New York and neither he nor his relatives have reached out for any help, the ministry said.
The Islamic State group largely consists of Sunni militants from Iraq and Syria but has also drawn fighters from across the Muslim world and Europe.