Ferguson mulls removing Brown shrine from middle of street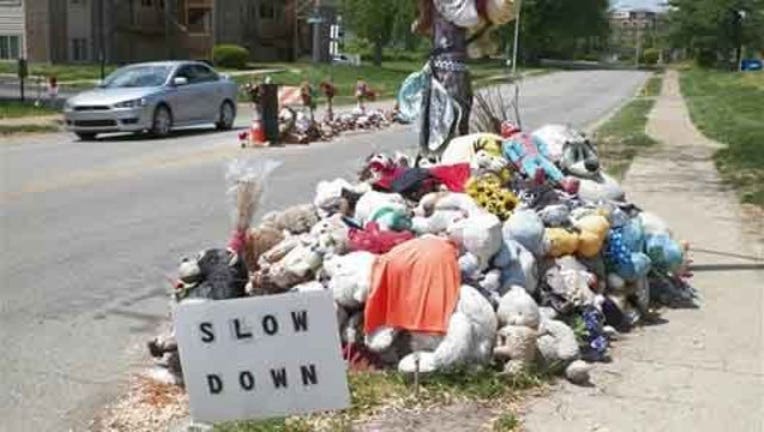 article
FERGUSON, Mo. (AP) — To some, a makeshift shrine in the middle of the Ferguson street where Michael Brown was killed last summer is a hallowed symbol of a new civil rights movement over race and policing. To others, it has served its purpose and is now more of an eyesore and a road hazard.
Within hours of Brown's Aug. 9 shooting death by a white police officer, people began placing stuffed animals, candles and other tributes in the middle of Canfield Drive, where the unarmed black 18-year-old's body lay for about four hours before it was removed.
The shrine stretches several yards down the center of the two-lane road that bisects a housing complex, and city leaders are grappling with the thorny question of whether to remove or replace it and risk further inflaming racial tensions in the 21,000-resident St. Louis suburb, which is two-thirds black. Another section of the shrine sits along the curb a few yards away.
"It's a very sensitive topic," says Janie Jones, a black, Washington-based mediator who says she has been working behind the scenes with Ferguson municipal leaders and the Brown family on how to clear out the memorial without agitating the black community.
"It represents a community's cry for justice — not just for Michael Brown, but for people all over the world," Jones told The Associated Press on Monday. "The city has some serious decisions to make going forward."
Brown's killing by Officer Darren Wilson, who left Ferguson's police force after a grand jury decided not to charge him, touched off weeks of sometimes-violent demonstrations and a national "Black Lives Matter" movement that only gained momentum with the subsequent police killings of unarmed black men in other U.S. cities.
Although Wilson wasn't charged, the U.S. Justice Department released a scathing report citing racial bias and racial profiling in the Ferguson Police Department and in a profit-driven municipal court system that frequently targeted blacks.
Ferguson Mayor James Knowles III, while appreciative of what the memorial's status as a nexus of protests and prayers, said it is now a public safety issue that comes with "any time you leave items in the middle of the roadway." Knowles, who is white, pointed to last Christmas Day, when an unidentified motorist — whether intentionally or accidentally — plowed through the shrine. Neighbors and Brown supporters swiftly cleaned up the damage and rebuilt the site.
Now, Knowles said, "the city would like it moved," adding that "we're working on getting a buy-in with the family and community" to make it happen. He said no decisions have been made. and there isn't a deadline to decide the matter.
During a Ferguson City Council meeting last month — the first since city elections tripled black representation on the governing board that had been largely white — Jones proposed replacing the shrine with a permanent dove-shaped marker embedded in the street.
That would "take a very tragic situation and use it as a teachable moment to encourage community healing and symbolize the unity that is very much needed," said Jones, president and CEO of the Joint Council on Policy and Social Impact. "The way we deal with this memorial is how we move forward in Ferguson, because that memorial represents the best and the worst of Ferguson."
Jones said Brown's mother wants a portion of the road where the memorial rests carved out and repaved because "she feels like her son's blood is still in the streets."
Jeff Small, a Ferguson city spokesman, said discussions about the memorial's fate likely would go the city's traffic commission comprised of various Ferguson residents and newly elected Councilwoman Ella Jones, who did not return telephone messages seeking comment for this story.
The Brown family's attorney, Benjamin Crump, also did not reply to messages seeking comment.
Debate about the memorial's fate comes as Brown's parents are pressing a wrongful-death lawsuit against the city of Ferguson, Wilson and the former police chief. Dorian Johnson, who was with Brown at the time of the shooting, also sued those same parties last week, accusing Wilson of being the aggressor who used excessive force and "acted with deliberate indifference or with reckless disregard" for Johnson's rights.