Fiorina Tweets that she's quitting GOP race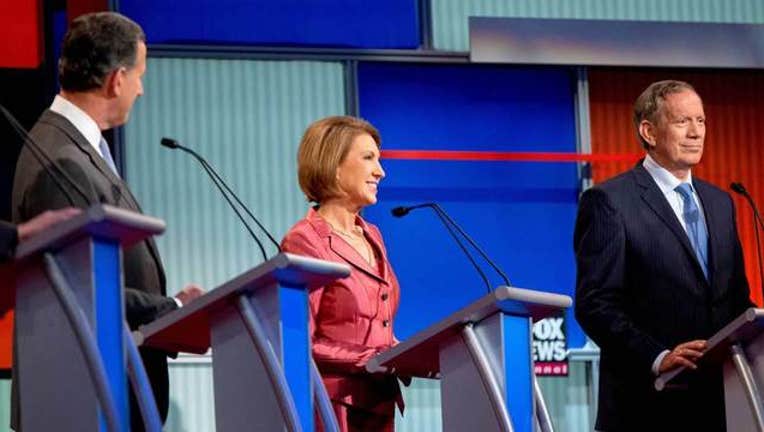 article
COLUMBIA, S.C. (AP) — Here's the latest on the 2016 presidential race as Republican and Democratic candidates head from New Hampshire to South Carolina and beyond. All times local:
3:12 p.m.
Carly Fiorina is dropping out of the 2016 Republican presidential race.
The former technology executive announced on Twitter that she is suspending her campaign.
The 61-year-old drew positive reviews for several strong debate performances, in which she promoted her business expertise and argued that as the lone woman in the GOP field she was best positioned to oppose likely Democratic nominee Hillary Clinton. But she struggled to build support in a crowded primary field and her poll numbers lagged.
Fiorina announced her candidacy in April. She previously ran unsuccessfully for Senate in California.
Fiorina struggled with criticism of her time at Hewlett-Packard, where she was ousted from the top job in 2005, after leading a major merger and laying off 30,000 people.
___
3:05 p.m.
Hillary Clinton's campaign is questioning rival Bernie Sanders record on issues affecting minorities, as the race moves to the more diverse states of South Carolina and Nevada.
Just a day after a devastating defeat in New Hampshire, campaign supporters are attacking Sanders record on gun control, criminal justice and civil rights.
"Hillary Clinton has been a true friend to the African-American community for nearly 40 years," said Rep. Hakeem Jeffries, of New York. "And during that time Sen. Sanders has been largely missing in action."
Sanders plans to tout his work as civil rights activists during his college years at the University of Chicago. His aides argue that the more minority voters learn about Sanders, the more they will embrace his economic message.
___
2:07 p.m.
Tuesday's winners in the New Hampshire primary might have gained momentum but they didn't pick up many delegates.
That's because there weren't many delegates at stake, and both parties awarded them proportionally, meaning even the losers got some.
Bernie Sanders picked up a total of 15 Democratic delegates and Hillary Clinton won nine.
Clinton holds a sizable lead in the overall race for delegates because of strong support from superdelegates, the party officials who can back the candidate of their choice.
Overall, Clinton has 394 delegates Sanders has 44.
It takes 2,382 delegates to win the Democratic nomination for president
Among Republicans, Donald Trump won 10 delegates in New Hampshire and John Kasich won four. Ted Cruz, Jeb Bush and Marco Rubio each won three.
Overall, Trump has 17 delegates, Cruz has 11 and Rubio has 10. Kasich has five delegates, Bush has 4 and Ben Carson has three.
It takes 1,237 delegates to win the Republican nomination.
__
1: 51 p.m.
Marco Rubio's campaign manager says the Florida senator's New Hampshire setback could extend the Republican nomination fight for at least another three months, if not longer.
"We very easily could be looking at May — or the convention" before there's a "functional nominee," Rubio campaign manager Terry Sullivan said in a brief interview with The Associated Press. "I would be surprised if it's not May or the convention."
There hasn't been a contested national convention since 1976. But Republican National Committee officials have already had preliminary discussions about just such a scenario given the possibility no candidate secures a majority of delegates in the state-by-state contests to come. This year's Republican National Convention will take place in July.
___
1:25 p.m.
One of the first voters to ask a question at Kasich's lead-off South Carolina town hall says she's a lifelong Democrat who plans to vote for the Ohio governor.
But she has one concern: "I keep reading that you have a prickly personality...Can you really bring people together to get things done?"
Kasich has pledged to run a positive campaign, but he's been known at times to be short-tempered in his home state of Ohio.
After jokingly telling the woman "No, I probably can't" get things done, Kasich says he's "mellowed out" since his early days in politics. He says his record in Congress and as governor serves as evidence that he can deliver on his promises.
___
12:56 p.m.
Jeb Bush says New Hampshire voters "pushed the pause button" on anointing any candidate as the favorite to win the Republican nomination.
Bush told reporters Wednesday after a campaign rally in Bluffton, South Carolina, that the New Hampshire primary had cancelled "the coronation after a third-place finish" — an apparent reference to GOP rival Marco Rubio, who slipped from third in the Iowa caucus to finishing fifth in New Hampshire. Bush finished fourth in New Hampshire's contest Tuesday night.
South Carolina Sen. Lindsey Graham is joining Bush on the campaign trail in his home state. Graham endorsed the former Florida governor last month after ending his own presidential bid.
Graham introduced Bush to a crowd of about 300 people as "a guy who's been tested and will be ready on Day 1 to be commander-in-chief."
___
12:39 p.m.
New Jersey Gov. Chris Christie is expected to drop out of the 2016 race for the White House after finishing sixth in the New Hampshire primary.
That's according to a two people familiar with his plans, who spoke to The Associated Press on the condition of anonymity because they were not authorized to speak publicly.
Christie had banked his presidential prospects on a strong finish in the early-voting state, but finished behind most of his Republican rivals in Tuesday's election.
It was the final blow for a candidate who spent more than 70 days campaigning in New Hampshire.
Christie had trouble from the get-go raising money and building support in a crowded Republican field dominated by another brash East Coaster: businessman Donald Trump.
___
12:20 p.m.
Marco Rubio says his campaign is moving into a more aggressive phase after a disappointing finish in New Hampshire.
He told reporters on the flight Wednesday from New Hampshire to next-up South Carolina that it was a mistake during Saturday's debate to revert to talking points instead of engaging with New Jersey Gov. Chris Christie. He says he won't start intra-party fights but will be more willing to respond when necessary.
He said: "We're going to have to point out the differences in our records in a sharper way," adding that his fifth place finish in New Hampshire means he doesn't have "the luxury any longer to basically say, 'Look, I don't want to argue with Republicans.'"
___
11:50 a.m.
Ted Cruz is going after Donald Trump again, this time in South Carolina over who is an authentic conservative on health care, abortion and more.
The Texas senator, who came in first in Iowa and third in New Hampshire, said he's the only candidate in the crowded GOP nomination fight who will stand against abortion and defend gun rights. Cruz revived his criticism of Trump as a defender of President Barack Obama's health care law. Trump has called that a "lie."
Cruz spoke in Myrtle Beach, S.C. as the race shifted to the next state to vote in the contest.
___
11:40 a.m.
The White House isn't revealing President Barack Obama's reaction to Bernie Sanders' blowout in New Hampshire, but it is acknowledging he's settling in for a long ride.
White House spokesman Eric Schultz says it's clear that the fight between Sanders and Hillary Clinton — like Obama's race against Clinton in 2008 — "is a process that's going to go on for quite some time."
Obama has not publicly endorsed a candidate in the race, although recent remarks suggest he favors Clinton, his former secretary of state. Obama says he doesn't want to put his finger on the scale until voters get their say.
Still, Obama is slated to deliver a message on Wednesday that may again hint at his preference. The president is slated to address the Illinois General Assembly. The White House says he'll make the case for less ideological, more pragmatic politics. Clinton uses similar rhetoric in campaign speeches when she tries to draw contrasts with Sanders.
___
11:35 a.m.
Chris Christie fundraiser Ken Langone isn't crying over the New Jersey governor's sixth-place finish in Tuesday's New Hampshire primary.
The billionaire Home Depot co-founder says, "'yesterday was a great day for America, a fabulous day for America," though "it wasn't a great day" for conventional political candidates, including Christie.
He says, "the American people are effectively saying to both parties: We're sick and tired of the current situation."
Langone says he thought Christie would "do better," but that primary winner Donald Trump is a proxy for the frustrations people are feeling.
He says that, while Christie could continue on, "the question is, is it practical or well-spent or realistic."
___
11:30 a.m.
The Rev. Al Sharpton and Democratic presidential candidate Bernie Sanders dined together Wednesday at a Harlem landmark, where they discussed issues that affect the African-American community around the country.
Sharpton says, "I think it is very important that he sent the signal that on the morning after a historic victory...he would come to Harlem and have breakfast with me."
Sharpton says the two men talked at Sylvia's Restaurant about affirmative action, police brutality and the water disaster in Flint.
Sharpton adds that he and various heads of national civil rights organizations plan to meet with Clinton next week.
He says he won't endorse a candidate until after that meeting with Clinton.
___
11:25 a.m.
Donald Trump wishes North Korean leader Kim Jong-un would "disappear."
"I would get China to make that guy disappear in one form or another very quickly," Trump said on "CBS This Morning."
Host Norah O'Donnell asked whether Trump is calling for Kim Jong-un's assassination.
Trump shrugged, "Well, I've heard of worse things frankly."
He adds: "China has control, absolute control over North Korea...And they should make that problem disappear."
___
10:47 a.m.
Texas Sen. Ted Cruz has finished third in the New Hampshire primary behind winner Donald Trump and runner-up John Kasich.
Former Florida Gov. Jeb Bush finished in fourth place, Florida Sen. Marco Rubio finished behind him in fifth.
Trump led the field, beating Kasich, the sitting Ohio governor, by nearly 20 points.
Cruz came in third, leading Bush by less than a percentage point. Rubio trailed Bush by less than a percentage point.
___
10:00 a.m.
Jeb Bush's campaign is unveiling a radio ad Wednesday in South Carolina featuring Jeb Bush's famous presidential brother, George W. Bush.
The former president says "There's no doubt in my mind that Jeb Bush will be a great commander-in-chief for our military."
George W. Bush has been enlisted to campaign for his brother in South Carolina, where Jeb Bush is making eight campaign stops in the state over the next three days following a fourth-place finish in New Hampshire.
The 60-second ad, "Steady Hand, will air throughout the state.
___
8:55 a.m.
Score one for optimism.
Florida Sen. Marco Rubio says his underwhelming debate performance and low finish in the New Hampshire primary won't stop him from winning the Republican presidential nomination.
He says on NBC's "Today" that he is "going to be the nominee. It is just going to take a little longer, but we are going to get there."
Rubio was hammered by his rivals, especially New Jersey Gov. Chris Christie, in last week's debate for being repetitive and scripted. Rubio went from a third place showing in Iowa to fifth place in New Hampshire with 10.5 percent.
___
8:28 a.m.
Donald Trump says he will release his tax returns "over the next few months," attributing the delay to the size and complex nature of his taxes.
The billionaire businessman, who is coming off of a major win in Tuesday's New Hampshire primary, tells NBC'S "Today" that he thinks people will be surprised "at how little I pay."
He says, "I hate the way the government spends my money."
Trump says he is hoping to become more of a statesman, but notes that he sees nothing wrong with using foul language at his campaign rallies.
"Political correctness is killing us," he says. "It wasn't the worst thing in the world."
___
8:20 a.m.
Ohio Gov. John Kasich says he will not sit back and "be a marshmallow" and allow his Republican presidential rivals to attack him.
But speaking to NBC's "Today" Wednesday, Kasich said he will not allow the negative nature of the campaign to overshadow his positive message. Instead, he says he'll let his record speak for itself.
Kasich won second place in Tuesday's New Hampshire's primary, breaking out from a pack of traditional, establishment candidates. Kasich has refrained from engaging in many of the sharp attacks that have dominated much of the discourse between his competitors.
___
8:08 a.m.
Donald Trump says he talked with Chris Christie a "little bit" about the New Jersey governor dropping out of the race for the GOP presidential nomination.
Trump says on "CBS This Morning" that he and Christie spoke after the New Hampshire primary Tuesday, in which Trump won a big victory and Christie fared poorly. Seeking endorsements from any rivals that quit the race, Trump said of Christie, "He's a friend of mine. I'm surprised he didn't do better."
He adds: "I'd like to see a lot of people drop out."
Christie has cancelled an event Wednesday in South Carolina, an organizer says.
___
7:56 a.m.
New Jersey Gov. Chris Christie has cancelled an event in South Carolina on the heels of his disappointing finish in the New Hampshire GOP primary.
Brielle Applebaum of the Conservative Leadership Project says a Wednesday forum on legal and constitutional issues set for Charleston has been cancelled. South Carolina is next up on the GOP primary calendar and votes Feb. 20.
Christie told a crowd of supporters in New Hampshire on Tuesday night that he was headed home to New Jersey to "take a deep breath" and assess what comes next. On MSNBC Wednesday morning, first-place New Hampshire finisher Donald Trump said he had a "long talk" with Christie Tuesday night but did not go into detail about what was said.