First flock of California condors seen in East Bay in over 100 years
MT. DIABLO, Calif. - For the first time in a hundred years, a flock of California condors was tracked in Contra Costa County in the area of Mount Diablo range. 
Bird conservationists tracked 26 California condors – by their GPS transponders about two weeks ago. 
This is the furthest north California condors have been spotted in the last few years. 
It was back in the '80s that there were less than 30 in existence. Lead poisoning from ammunition in unrecovered carrier such as deer and wildlife shot by hunters is the greatest risk to North America's largest bird. 
Thirty-five years ago, to save the native California condor, 22 of the large carrion eating birds were rounded up to help breed them in captivity and save the species.
By tagging juvenile condors, who were later released in Big Sur and in Pinnacles National Park in San Benito County, there has been a measured tracking of the rare birds over the years of reintroduction to their crest preferred nesting sites, as well as access to dead animals, on which they thrive.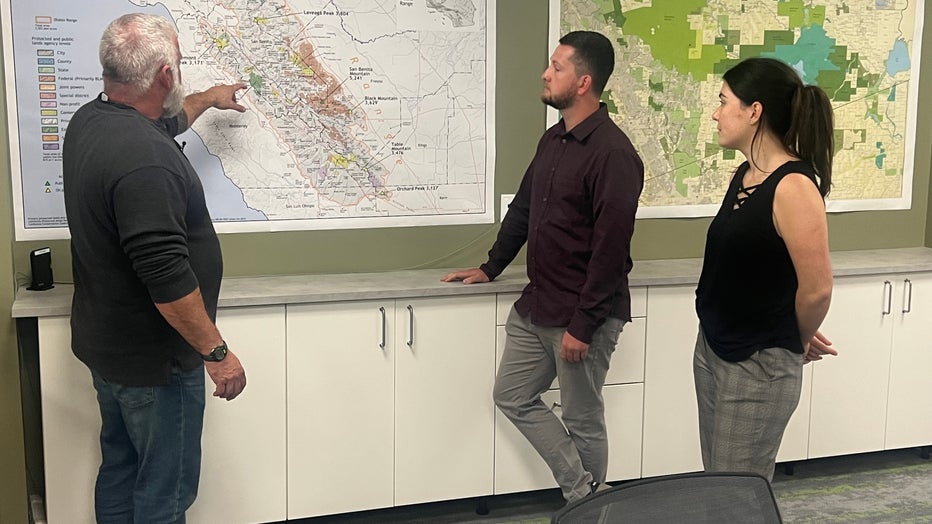 Seth Adams of Save Mt.Diablo 
Seth Adams is a land conservationist with Save Mt. Diablo, an East Bay land trust conservancy. 
Adams shared, "People know about California condors now, and they know what an important success story this is."
In the last two years, on separate occasions, condors were seen flying in the region. 
It was about two weeks ago when a large flock of these birds were tracked in the Mount Diablo range. 
"A flock of 26 is significant in the first place," Adams said. "And most of those stopped around Pacheco Pass, but six of them continued north to Mt. Diablo. " 
The large black birds look like oversized vultures, with a bald head and a nine-to-ten-foot wingspan, they need a lot of space.
California condors can travel 10,000 feet high and can fly 200 miles a day. 
The biggest threat to condors has always been and still is ammunition made from lead. 
The large condors fly very high but slow, and that's why Adams says, the Mount Diablo range is perfect for condors, as it has 200 miles of intact wilderness, most of which is unreachable by hikers and bikers. 
Stream KTVU on your TV by downloading Fox Local on your Roku, Amazon Fire, AndroidTV or AppleTV device for free. More details here.
Adams said, "This is one of California's best kept secrets." 
This 200-mile biodiverse corridor is perfect for wildlife habitat, across 12 counties, from Carquinez Strait to Antelope Valley. It's the perfect California condor habitat! "
It's a hopeful sign for conservationists, ornithologists and bird watchers, to realize that Mt. Diablo in Contra Costa County could be home to California condors. 
Adams agreed, sharing, "I've been predicting to people for 40 years that if we protected enough land at Mt. Diablo, if we maintained the connectivity to the rest of the range, we would see condors on Mt. Diablo again… and we are." 
There are more than 500 California condors in the wild and in captivity. 
After tracking the flock of condors to the East Bay – conservationists like Adams say the hope is that Mt. Diablo will see these birds breeding and thriving here in the East Bay for years to come.