Flood watch warning issued for entire Bay Area: Here's a list of where to get free sandbags to prepare
OAKLAND, Calif. - The already heavily saturated Bay Area was set to get more rain this week, prompting a flood watch warning for the region and a rush to get sandbags in place.
On Tuesday, the National Weather Service (NWS) Bay Area issued the alert for Thursday afternoon through Sunday morning, as the region faced increased potential for an atmospheric river.
The agency warned, "Excessive runoff may result in flooding of rivers, creeks, streams, and other low-lying and flood-prone locations. Creeks and streams will see rapid rises. Flooding may occur in poor drainage and urban areas." 
SEE ALSO: Atmospheric river could unleash more mudslides, mountain snow
SEE ALSO: Heavy snow leaves Northern California residents stranded, ranchers unable to reach starving animals
Rainfall totals were forecasted to range from 1.5 to 4 inches. 
The weather service also noted that the ground, which was already saturated from the large amount of rainfall in recent months, would on be unable to absorb the excess rain, and rivers could rise above flood stage.
Residents living in areas prone to flooding were urged to be prepared to take action for potential flooding. 
Across the Bay Area, local jurisdictions were helping residents get prepared by distributing free sandbags. The use of sandbags can be a simple but effective tool in preventing or reducing flood water damage, serving as a barrier to divert moving water.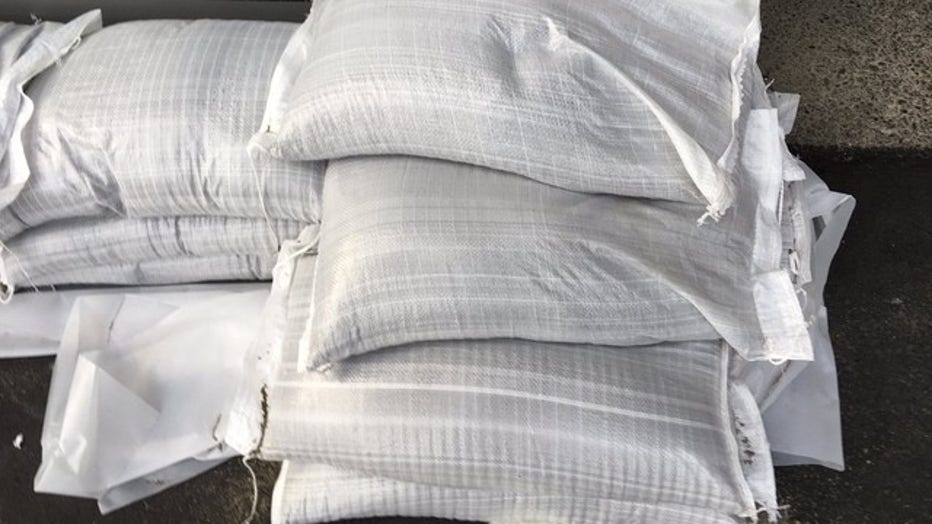 Free sandbags available to Sunnyvale residents and can be picked up at 221 Commercial Street. Photo: Paul Chambers
Here's a comprehensive list of Bay Area sandbag distribution sites. Be sure to check locations for availability as well as restrictions and requirements including proof of residency and whether residents need to supply their own shovel to fill the bags. 
CONTRA COSTA COUNTY
Residents in unincorporated Contra Costa County can visit the following sandbag stations. (Note: Bags and sand are available for free, but residents need to bring their own shovel.)
ALAMEDA COUNTY
Residents in unincorporated Alameda County, are eligible to receive as many as four free sandbags per household. Sandbags are available 24 hours a day, 7 days a week (while supplies last) and can be found outside the corporation yard gates at the below locations. (Note:  stations are self-serve and are not attended regularly by staff. Residents must bring their own shovel.) 
Alameda County Public Works Agency Buildings:
951 Turner Court, Hayward
6089 Madigan Road, Dublin
Alameda County Fire Stations:
Station 6: 19780 Cull Canyon Road, Castro Valley
Station 25: 20336 San Miguel Avenue, Castro Valley
Station 12: 1065 143rd Avenue, San Leandro
Station 31: 33555 Central Avenue, Union City
Station 14: 11345 Pleasanton Sunol Road, Sunol
Within Alameda County, these cities were offering residents free sandbags: 
Alameda: Residents can pick up as many as five free sandbags, available anytime from a self-serve sandbag station in the courtyard behind City Hall West at 950 W Mall Square.
Hayward: During inclement weather, the sandbags can be picked up front of the Hayward Animal Shelter at 16 Barnes Court. Call (510) 881-7745 to schedule a pickup. For after-hours assistance, contact Hayward police non-emergency line at (510) 293-7272. As many as six sandbags were being made available to residents and a maximum of 12 sandbags for Hayward businesses. Identification was required. 
Fremont: Residents and businesses may pick up a maximum of 10 sandbags (per household/business), at three 24 hour  locations. Bring your own shovel.
Berkeley: Free sandbags are available for residents at City's Corporation Yard 1326 Allston Way, from Monday through Friday, 8 a.m. to 4 p.m. Identification or a business card was required. There's a 5 bags limit.
For information on other sandbag distribution sites managed by cities in Alameda County, check this link here. 
SAN MATEO COUNTY: 
County residents in unincorporated areas may pick up sandbags free of charge at the following locations. There is a limit of 15 premade sandbags. In addition to pre-made sandbags, the county was also providing materials for individuals to fill as many bags as they need on their own. Requests for additional premade bags will be considered on a case-by-case basis. 
SANTA CLARA COUNTY: Valley Water offers free filled sandbags for residents of Santa Clara County. Sites are open from November through April. (Dates are subject to change depending on the weather.)  
Sandbags can also be picked up at various Santa Clara Water District locations.
Residents of Sunnyvale have access to self-serve sandbags at the Corporation Yard, 221 Commercial Street from 7:30 a.m. to 4 p.m., Monday through Friday, through April 1.
Other cities within Santa Clara County were also managing sandbag distribution sites, and residents were encouraged to contact their city for availability. 
NAPA COUNTY:
Napa River Reclamation District Facility: 1501 Milton Road, Napa; 707-255-2996
Napa County Fire/Dry Creek Lakoya Volunteer Fire Dept. Station 17 5900 Dry Creek Road, Napa; 707-944-8887
Circle Oaks Community Water District.: End of Circle Oaks Drive
Napa County Fire/Gordon Valley Volunteer Fire Station #22: 1345 Wooden Valley Cross Road, Napa; 707-428-2050
St. Helena California Dept. of Forestry Station: 3535 N. St. Helena Hwy., Calistoga (between St. Helena and Calistoga across from Big Tree Road); 707-967-1467 (Open 24 hours)
Angwin Volunteer Fire Department Station #18: 275 College Avenue, Angwin; 707-965-6551
Napa County residents living in the following areas were encouraged to contact their city or town for sandbag locations and availability.
American Canyon City Hall 4381 Broadway Street Corp Yard, 205 Wetlands Edge Road (only open during business hours). 
Napa at 770 Jackson Street.  
Calistoga was offering sandbags and sand at different locations. Sandbags can be picked up at the Public Works Department at 414 Washington Street (Mon-Fri 8:00 a.m.-4:30 p.m.) and after hours, at the Calistoga Police Dept. at 1235 Washington Street. Sand was being available at Little League Field 414 Washington Street 24 hours, seven days a week.
St. Helena End of Adams Street and at Crane Park parking lot between the tennis courts and the primary school. 
Yountville Sandbag filling station has moved to the gravel parking lot south of Veterans Park on Washington Street.
SONOMA COUNTY:
In unincorporated Sonoma County, sand and sandbags was available at the following locations:
For information about sandbag stations in individual cities, visit the following links:
SOLANO COUNTY: 
Cordelia Fire District- Corner of Rockville Rd and Suisun Valley Road
Dixon Fire District and city of Dixon- Sand bags are located at 205 Ford Way; Sand is located at old Ace Hardware (N. Jackson and West A Street)
Montezuma Fire District- Jericho Dredging located at 1285 Collinsville Road
Suisun Fire District- 4965 Clayton Road
Suisun- 701 Civic Center Boulevard, behind police department
Vacaville Fire Protection District-  4315 Cantelow Road (English Hills Station). This site designated for unincorporated residents.
Benicia- Corporation Yard located at 2400 East Second Street East E Street parking lot (across the street from Benicia Yacht Club)
Fairfield- Public Works Corporation Yard – 420 Gregory Street, (Mon-Thurs. 7:30 am-4:30 pm) empty sandbags; Southeast corner of parking lot at Allen Witt Park (Enter at Woolner) sand only; Corner of Pittman and Cordelia roads (inside unlocked fenced area) sand only. All locations have a 10 bag limit and are self-serve. Residents must bring their own shovel.
Rio Vista- 1 Main Street Firehouse -350 Main Street. Sand bags only
Vacaville- Only active in the event of a flooding-- Irene Larson Park, 1800 Alamo Drive. (Bring proof of residence and shovel). Various city locations may be made available if flooding occurs.
Vallejo- Sandbags located west end of street at Vallejo Flood and Wastewater District located at 450 Ryder Street. Click here for more information.
SAN FRANCISCO Public Works will provide San Francisco residents and businesses a maximum of 10 free sandbags leading up to and during severe rainstorms. Sandbags can be retrieved Monday through Saturday, 8 a.m. to 2 p.m., at the Public Works operations yard, Marin Street/Kansas Street gate. Proof of address required. Note that members of the public will need to load the sandbags into their vehicles on their own, with limited exceptions. 
MARIN COUNTY 
All locations provide sand, bags, and shovels unless noted.
Belvedere- Belvedere Public Works (415-435-3838, 415-465-4367)
Across from 73 Westshore Road
Community Road and Mallard Road
Across from the Police Dept. - 450 San Rafael Avenue
Bolinas (415-868-1566)
Bolinas Fire Department at 100 Mesa Road
Corte Madera
Fire Station 14 at 342 Tamalpais Drive, rear parking lot
San Clemente Park at Paradise/Golden Hind Passage, parking lot
Fairfax
Fairfax Pavilion at 1 Elsie Lane
Kentfield
College of Marin parking lot #2 - adjacent to Sir Francis Drake Boulevard between Maple and Elm avenues
Larkspur
Piper Park at 250 Doherty Drive (Sand and bags only)
Heatherwood Park at Diane/Midway (Sand and bags only)
Marin City
Marin County Fire Dept. - Drake Avenue/Philips Drive
Mill Valley
Fire Station 7 - 1 Hamilton Drive, parking lot left of the Public Safety Building (Limit 10)
Boyle Park - 1 East Drive, near baseball field (Bags only)
Tam Valley Improvement Club - 203 Marin Avenue (Sand only)
Marinwood
Fire Station 58 - 775 Miller Creek Road, Community Services Building Sheh
Novato 415-899-8280
Novato Public Works - 550 Davidson Street, just outside City Corp Yard (Limit 10, Bags & sand only)
Ross (415-453-1453)
Natalie Coffin Greene Park - 299 Lagunitas Road, entrance to the park at the end of Lagunitas Road (Bags & sand only)
San Anselmo
Memorial Park - 1 Alderney Road, tennis courts, access on Sunnyhills Drive (Bags and sand only)
San Rafael (415-485-3355)
Terra Linda Community Center - 670 Del Ganado Road, outside basketball courts, *Bags & sand only*
Menzies Parking Lot, 1428 Mission Avenue
Back of peacock gap by Biscayne Drive
Sausalito (415-868-0622)
Old MLK School - 610 Coloma Street, outside basketball courts
Stinson Beach (415-868-0622)
Fire Station 2 - 100 Calle Del Arroyo (Bags only) 415-868-0622
Tiburon (415-435-7386)
Outside Blackie's Pasture - 1 Brunni Way, outside gravel lot
Marsh/Beach, tennis courts
Unincorporated Marin (415-473-6717)
County Fire (Bags and sand only) Point Reyes Station: 101 4th Street Tomales: 599 Dillon Beach Road Old San Geronimo Golf Course - 5800 Sir Francis Drake Boulevard
Point Reyes Station: 101 4th Street
Tomales: 599 Dillon Beach Road
Old San Geronimo Golf Course - 5800 Sir Francis Drake Boulevard
Emergency officials were also reminding residents that they can purchase sandbags at many local hardware stores and home improvement retailers.