Flooding expected in Yosemite Valley as Merced River rises
YOSEMITE NATIONAL PARK, Calif. - The National Weather Service said the Merced River in Yosemite Valley is expected to reach flood stage of 10 feet at Pohono Bridge by Tuesday morning. 
This week's warm temperatures is accelerating snowmelt in the Sierra. A flood warning has been in effect in Yosemite Valley since Sunday. 
The California-Nevada River Forecast Center said the Merced River could peak near 13 feet by Saturday morning. 
Much of the valley from Highway 120 is closed, due to the likely flooding. Park officials say some areas may not reopen until June.  
Park officials said Lower and North Pines campgrounds and the Housekeeping Camp closed Monday.  
Yosemite Valley, the Mariposa Grove, and Wawona will still be accessible from highways 140 and 41. 
The California Data Exchange Center said Monday on May 1 the Sierra snowpack was at 337 percent of normal for May 15.  
 Officials ask people in the area to be prepared. Don't drive through standing water and pay attention to the weather.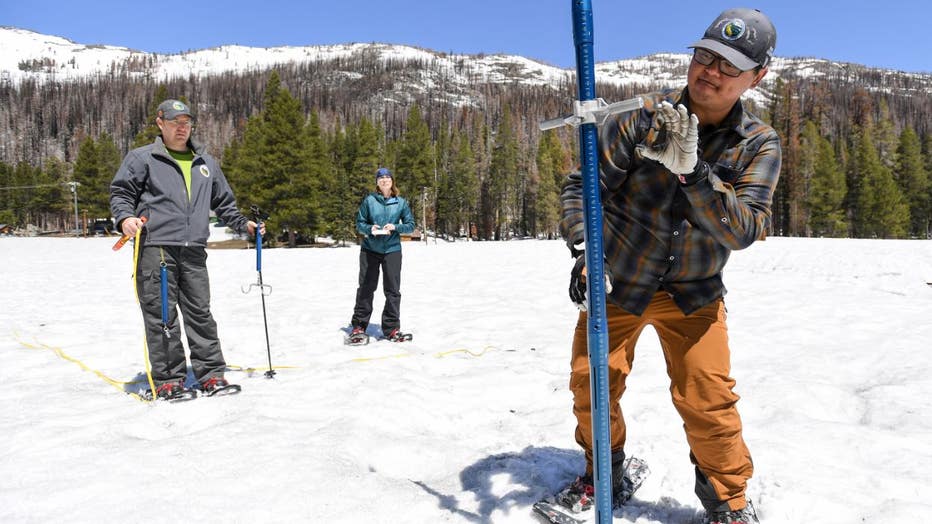 (R) Sean de Guzman, Manager of the California Department of Water Resources Snow Surveys and Water Supply Forecasting Unit, inserts the a long aluminum snow depth survey pole into the snow during the final snow survey of the 2023 season on May 1, 202