Former Alameda star Dontrelle Willis ends Major League comeback attempt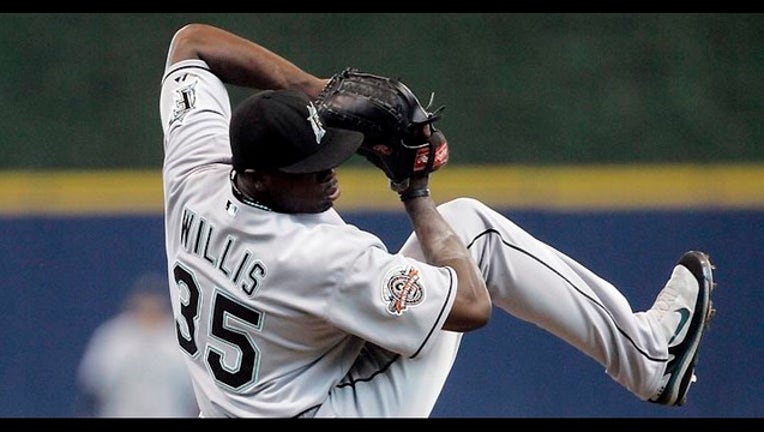 article
PHOENIX (AP) — Dontrelle Willis is apparently done, ending his comeback bid with the Milwaukee Brewers and set to retire after countless efforts to recapture what once made him so productive and popular.
The 33-year-old Willis was in Milwaukee's camp on a minor league contract. He had not pitched in a spring training game, and hasn't been in the majors since going 1-6 in 2011 with Cincinnati.
"Dontrelle Willis is not going to come back into camp with us," Brewers manager Ron Roenicke said Friday. "He just said the physical part of it coming in and trying to get out there on the field has worn on him."
"He may slide in (Saturday) morning to say bye to the guys. But he's been thinking about this for a few days and he's had a tough time struggling with what to do, and what he wants to do," Roenicke said.
Willis was the NL Rookie of the Year in 2003 and helped the Marlins win the World Series that season. Nicknamed the "D-Train" and known for his energetic personality and high leg kick, the left-hander was a 22-game winner in 2005.
His backstory drew a lot of attention, too — his mother, Joyce, was a welder who worked on the Golden Gate Bridge.
Willis was traded with Miguel Cabrera to Detroit after the 2007 season. Willis has been with seven other major league organizations since then. He pitched in Triple-A with San Francisco and in an independent league last year.
A two-time All-Star, Willis had a career record of 72-69.
Marlins manager Mike Redmond was a backup catcher on the team when it won the championship more than a decade ago.
"This guy was fun to catch. He brought an energy like I don't think anybody in Miami had seen before," Redmond said. "He energized our ballclub in 2003 when we needed it. He was a big part of our success in winning the World Series, that's for sure."
"At the end of the day he can rest knowing that he threw it all out on the field," he said.
Redmond also recalled the way Willis took a big swing at the plate and dashed around the diamond. Willis launched nine career home runs.
"He could hit. We all remember the way he ran those bases all out. My memories of him are nothing but positive. This guy, he gave it everything he had for a long time," Redmond said.
Brewers pitcher Mike Fiers, a South Florida native, remembered watching Willis in his prime pitching for the Marlins.
"I don't know if it's sad or it's good for him. I just want to wish him well," Fiers said. "Watching Dontrelle in the World Series, I've been a big fan of his for a long time. Him coming into spring training this year was pretty cool to see."
Fiers said Willis brought positive energy to the clubhouse and was readily available to talk with.
"He's a grinder," Fiers said. "You can talk to him about anything. He's very supportive."
Roenicke spoke with Willis about retirement. He said he appreciated Willis being a mentor to Milwaukee's younger players.
"The conversation was tough on his part because of the decision," Roenicke said. "He's at an age where he's really not old enough to retire, but the physical part of it. ... it wears on you mentally. Whether he pitched or not for us, I'm glad he came in. He helped the guys out in that locker room."