Former Bay Area landfill re-purposed to generate renewable electricity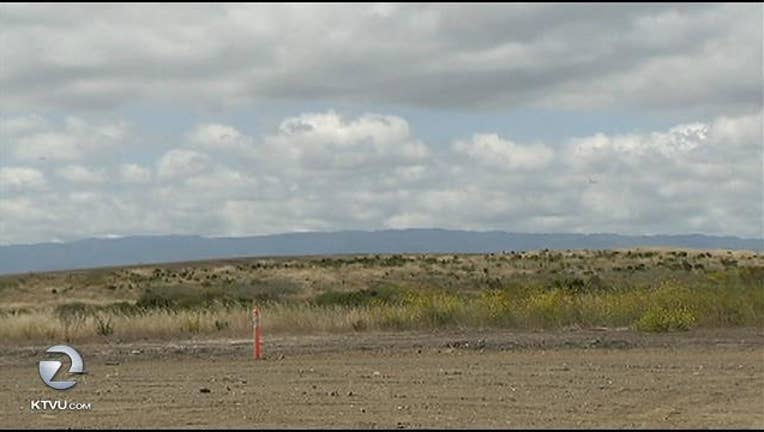 ALAMEDA COUNTY, Calif. (KTVU) -The Bay Area is drawing national attention and being called a role model for the nation, when it comes to government agencies partnering up to generate renewable electricity.
On Wednesday, a huge, long unused patch of land near the Bay was shown off as the latest example.
The Winton Landfill closed down in the early 1970's. It's a huge piece of land that had been forgotten.
"The landfill site is a site that's not available for development for any other purpose," says Caroline Judi an official of Alameda County in charge of the project. "For the past 50 years this property has been of little use and was used as part of our county flood control area," said Richard Valle, an Alameda County Supervisor.
But now, the landfill will be re-purposed; soon to house 19,000 solar panels that will generate 6.6 megawatts of power for public agency use.
That's enough energy to supply power to 1,200 Bay Area homes, once the project comes online late next year. "Our cost of PG&E power is escalating fairly rapidly, so the consortium was a means of getting together and reducing our cost of operations," says Judi.
SunEdison, a private supplier, already has more than a hundred such projects online in California. "We need to have the right partners in the public sector to give us access to these sorts of land for us to repurpose, to build the assets and provide the revenue and cost savings back to the community," says San Yoneszadeh of SunEdison.
The head of the U.S. Environmental Protection Agency came out to celebrate this latest project of a collaboration of four Bay counties and 19 local governmental agencies who currently operate 186 solar facilities.
"The largest collaboration of government agencies that have ever gotten together to join forces to buy renewable energy," noted U.S. EPA Administrator Gina McCarthy.
McCarthy says this is creating more than 800 renewable energy jobs and huge saving in electric costs for the members. "So that we can have more teachers, more firefighters, more police officers," added McCarthy.
With only four of the nine Bay Area counties involved so far, that leaves five others, all of which have lots of wide open spaces that would be otherwise unusable.