Former inmate testifies in murder trial of 3 Santa Clara Co. correctional deputies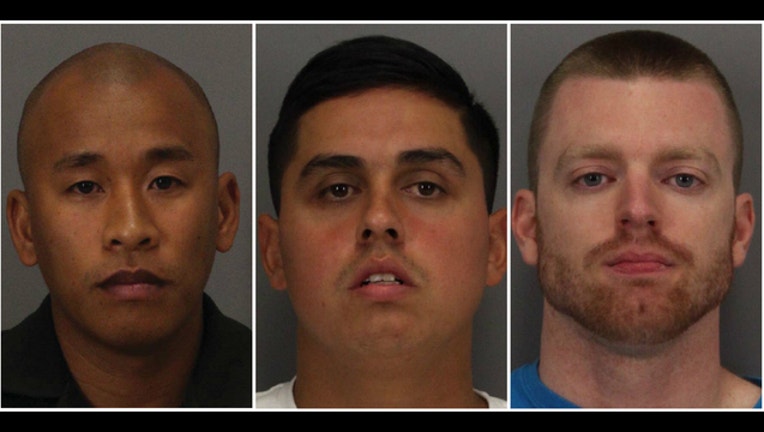 article
SAN JOSE (BCN)—  A former gang member who says he overheard the alleged beating by three Santa Clara County correctional deputies that killed a bipolar inmate at San Jose's Main Jail in 2015 testified in the guards' murder trial this afternoon.
Prosecutors allege that Jereh Lubrin, 30, Rafael Rodriguez, 28, and Matthew Farris, 28, beat Michael Tyree to death in his cell on Aug. 26, 2015.
Juan Carlos Ortega Perez, 33, was sentenced to 23 years and eight months for possession of firearms and ammunition and money laundering, among other crimes, but only served 11 years due to a successful appeal.
Perez previously testified before a grand jury in a separate gang-related murder case, putting himself, he said today, in "a little bit" of danger from active gang members.
In their opening statements on Tuesday, Lubrin's defense attorney Judith Odbert attacked Perez's credibility, calling him a "professional" witness whose testimony has allowed him to avoid deportation.
Perez said on the stand today that the prosecutor in the other case did send a letter to the Department of Homeland Security requesting that immigration officials delay his deportation hearing.
Perez, who lives in the area with his wife and children, added that he has been continuously employed since his release from jail and no longer associates with gangs.
In his role as an inmate trustee in the jail, Perez helped clean and serve meals.
Perez also slept in a cell near Tyree, who he described as "a normal person that's not all there," or a J-cat, the jail slang term for an inmate with mental health issues.
When asked about Lubrin, Perez said, "He's a J-cat," describing the guard's conduct as unprofessional and claiming that he picked on the mentally ill inmates.
Perez said that on Aug. 26, 2015, he heard Juan Villa, a severely mentally ill inmate who suffered from hallucinations and other delusions, screaming "like he was getting beat up" and yelling "Please stop, stop," and "I am a b----, I am a b---," in his cell.
The defendants were in Villa's cell at the time, Perez said.
Soon after, Perez could see the guards go into Tyree's cell nearby and heard him scream "Help, help" and "Stop, stop."
"He was just screaming for his life," Perez said, before "all you heard was 'boom, boom' ... I was, like, 'oh, s---.'"
When asked to describe the two loud booming sounds, Perez said,
"It sounds like somebody's getting beat down."
The cell went silent, Perez said, and the guards turned off the light and said "We don't want to hear a word from you."
Tyree's cell light was the only light the guards turned off, Perez said.
After Tyree's feces- and vomit-covered body was removed from his cell, Perez made several calls from the jail phone, including to his mother, his wife and his attorney.
In court today prosecutor Matthew Braker played the recording of a call Perez placed to his best friend's mother.
"These cops killed an inmate here in the unit," Perez can be heard saying on the call. "They're just trying to cover it up."
Perez will return to the stand when court resumes on Monday morning, at which time the defense will have the opportunity to cross-examine him.