Former state Sen. Yee pleads not guilty to new charges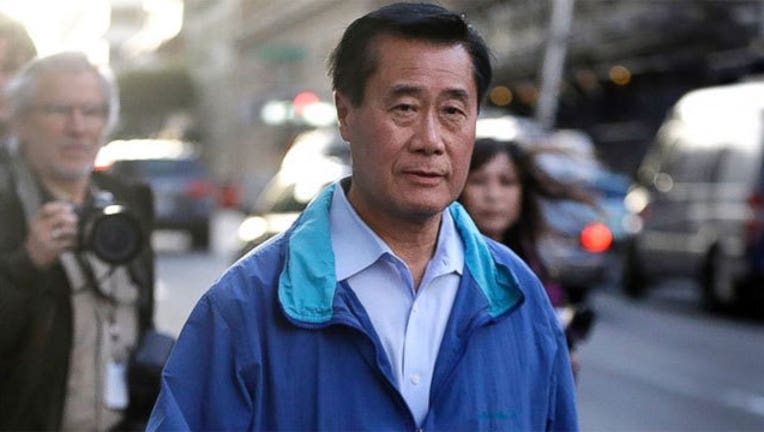 article
SAN FRANCISCO (BCN) -- Former state Sen. Leland Yee pleaded not guilty in federal court Thursday to a revised indictment that adds two money-laundering conspiracy counts to existing charges of corruption and plotting to smuggle weapons from the Philippines.
Yee, D-San Francisco/San Mateo, is due to go on trial along with three other men in the court of U.S. District Judge Charles Breyer in June. Jury selection will begin on June 1 and the trial itself on June 22.
He entered his not-guilty plea to the revised charges during a brief arraignment this morning before U.S. Magistrate Joseph Spero.
The new 95-page indictment was returned by a federal grand jury on Jan. 29 and is the third issued in the case since last spring.
It levels a total of 230 charges against Yee and 27 other defendants, including Chinatown association leader Raymond "Shrimp Boy" Chow.
Chow and a number of the other defendants face organized crime charges, in which Yee is not named. Because of the number of defendants and complexity of the case, Breyer is planning to hold at least two separate trials.
Yee, 66, now faces a total of 13 counts, including the two new money-laundering conspiracy charges.
In one alleged conspiracy, Yee and political consultant Keith Jackson are accused of plotting to launder alleged political bribery proceeds through Yee's campaign fund.
The campaign fund was for Yee's bid to become secretary of state.
He withdrew his candidacy after being arrested on corruption charges in March. Yee was also suspended from the state Senate and his term in office has since ended.
The indictment alleges in July 2013, three campaign contribution checks totaling $12,600 were deposited into Yee's campaign account and that Jackson repaid the three check writers in cash.
The cash was allegedly tied in part to $11,000 in cash allegedly given to Yee and Jackson in June 2013 by an undercover FBI agent posing as a businessman who wanted political favors, according to the indictment.
In the second alleged scheme, Yee and Jackson are accused of conspiring to use the campaign fund in March 2014 to launder money received for an alleged plot to sell weapons from the Philippines to another undercover agent who was posing as a Mafia member.
No arms deal was ever completed. The indictment alleges that Jackson reimbursed an individual for two campaign checks with $3,000 in cash allegedly tied to the never-completed arms deal.
The indictment alleges that at a meeting also attended by Jackson earlier in March, Yee accepted $6,800 in cash from the undercover agent along with a list of weapons for Yee to pass on to an associate with connections in the Philippines.
The 11 previous counts against Yee, which are carried over in the new indictment, include conspiring to racketeer, conspiring to obtain bribes, conspiring to deprive citizens of his honest services, using telephone and text messages in the alleged honest-services fraud, and conspiring to traffic in firearms.
Jackson, a former San Francisco school board president, is accused in those same counts.
In addition to Yee, the defendants in the June trial will be Jackson; his son, Brandon Jackson; and sports agent Marlon Sullivan.
The trial will also include charges that the two Jacksons and Sullivan sold guns without a license to the undercover agent posing as a Mafia agent. Yee is not accused of those counts.
Yee's next scheduled court appearance is a pretrial hearing before Breyer on April 30.