Four dead, three hospitalized after boat capsizes on Utah lake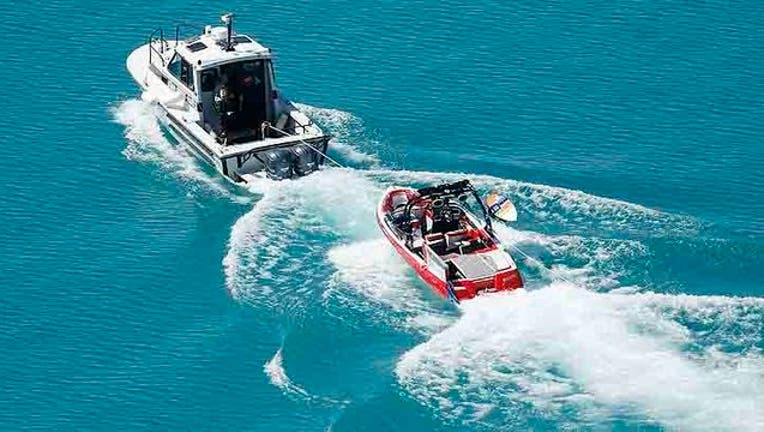 article
SALT LAKE CITY (AP) — A ski boat capsized amid violent winds and huge waves on a lake spanning the Utah-Idaho border, killing four people and leaving three hospitalized, a Utah sheriff said Tuesday.
All seven people in the boat — two adults, four teenage girls and a 7-year-old girl — were thrown into the chilly water when it overturned Monday on Bear Lake, about 120 miles north of Salt Lake City.
They were in the water for at least two hours as rescuers tried to find them amid waves that reached 10 feet and frothed in the wind, said Mike Wahlberg, fire chief in nearby Garden City, Utah, who helped with the rescue efforts.
The water was about 53 degrees Fahrenheit.
"If you're in that water, you could be dead within an hour, half an hour even," Wahlberg said. "It's a bad deal for you, and it can be hard to survive."
One of the adults, a man, died at the scene. Three of the girls were flown to Primary Children's Hospital in Salt Lake City, where they died later.
The other two children and a woman remain hospitalized in the northern Utah city of Logan, Rich County Sheriff Dale Stacey said in a statement.
Police said the group was reported missing at about 6 p.m. after failing to return from an outing on the lake that spans more than 112 square miles.
Authorities didn't immediately release the boaters' names, but Stacey said all seven were from Utah's Weber County. They all wore life jackets, he said.
Utah State Parks Lt. Eric Stucki said a summer storm that rolled in over nearby mountains late Monday afternoon produced giant waves. Wind speeds reached 51 mph in Garden City, the National Weather Service said.
Wahlberg said conditions were some of the worst he's seen and "about as extreme as it gets."
He said the wind and waves ripped a floating plastic dock that belongs to a nearby Boy Scout camp into pieces.
The boat and its occupants were found about 6 miles north of the Bear Lake Marina, according to Stacey.
Stucki said a few other boats were on the water at the time, but no other injuries or accidents were reported.
At Utah Lake three hours south, rescuers pulled two people from the water Monday night after high winds cause their sailboat to overturn.
The two adults involved were uninjured and wearing life vests, Utah County Sheriff's Sgt. Spencer Cannon said.