French president flexes diplomatic muscles in Putin meeting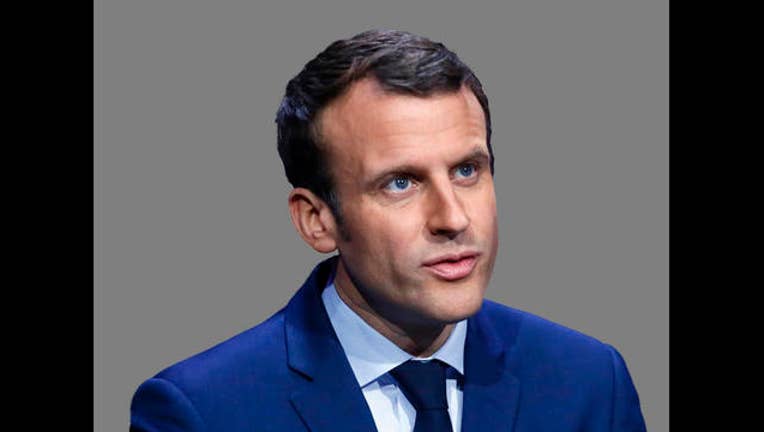 article
VERSAILLES, France (AP) -- Flexing his diplomatic muscles, French President Emmanuel Macron said he had "extremely frank" and "direct" talks with Russian President Vladimir Putin on Monday and launched an extraordinary attack on two state-funded Russian media outlets he accused of spreading "lying propaganda" during France's presidential campaign.
Macron's full-on blast at the state news agency Sputnik and broadcaster Russia Today came at a news conference with Putin standing at his side. His comments underscored the clear differences between the two men on multiple issues and fulfilled the French president's campaign promises to pull no punches with Russia when needed.

But after more than two hours of meetings -- their first since Macron's May 7 election and longer than scheduled -- both leaders also signaled a shared desire not to let disagreements define their fledgling relationship. The fight against terrorism, in particular, appeared to offer common ground.

Putin said Macron proposed a framework for French and Russian anti-terror experts to meet and work together. And both leaders agreed they don't want Syria -- where Russia is propping up the government of President Bashar Assad -- to collapse into a failed state.

Progress in Syria "will happen by a joint effort, which today we laid the foundations for," Macron said.

Speaking through a translator, Putin said the two countries were "totally capable of trying to progress together" on world affairs.

"What unites us allows us to hope that the possibility exists to improve our ties," he added later.

But there was no disguising the rifts.

Macron said he spoke to Putin about LGBT rights in the Russian republic of Chechnya and about the rights of embattled non-governmental organizations in Russia, vowing to be "vigilant" on these issues. Earlier Monday, human rights activists protesting near the Eiffel Tower displayed a banner that said, "Stop homophobia in Chechnya."

Any use of chemical weapons in Syria is a "red line" for France and would be met by "reprisals" and an "immediate riposte" from the government, Macron said.

He did not specify the form of such reprisals, but France flies warplanes over Syria and Iraq, striking Islamic State targets as part of an international coalition.

On Sputnik and Russia Today, Macron showed little restraint, saying the two organizations spread "untruths about me and my campaign" during the French election.

"I will not give an inch on this," he said. "Russia Today and Sputnik ... behaved as organs of influence, of propaganda, of lying propaganda."

Putin, seemingly unfazed, pushed back any suggestion that Russia sought to influence the election. Russian meddling became a concern in France after allegations that Russia sought to interfere in the U.S. presidential contest that elected Donald Trump and after a document leak hit Macron's campaign in the final hours of the French race.

Putin also hosted Macron's far-right rival, Marine Le Pen, at the Kremlin in March. On Monday, he defended that gesture as simple good manners, saying it would have been strange to rebuff Le Pen's Russia-friendly overtures.

"That doesn't mean that we tried to influence the results of the election. Besides, that is almost impossible," he said.

Macron was the first Western leader to speak to Putin after the Group of Seven summit the French leader attended over the weekend, where relations with Russia were a key topic. These first forays into world diplomacy by the  French president who has never before held elected office have shown the 39-year-old to be a quick learner and self-confident, willing to take the calculated risk of voicing firm views on thorny issues.

Macron portrayed the Putin meeting as just a first step in resetting relations with Russia.

"Big things are built over time," he said. "It was an exchange that was extremely frank, direct, with a lot of things that were said."

"We have disagreements, but at least we talked about them," he added.

After the deterioration in ties under Macron's predecessor, Socialist Francois Hollande, Putin expressed the hope that in Macron and his team there will be "more people who understand us."

The body language Monday was good. Their first handshakes -- relatively brief and cordial -- were far less macho than Macron's now-famous who-will-blink-first handshake showdown with Trump when the two leaders met last week for the first time. Macron and Putin also  hugged goodbye and shook hands, both smiling, after ending their meetings with a visit to an exhibit about the 300th anniversary of Russian Czar Peter the Great's trip to Paris.

The venue for the exhibit and Putin's visit was the sumptuous Palace of Versailles, west of Paris. Putin seemed wowed, saying he was "very impressed by the grandeur of France, by its history."

The news conference was held in the palace's largest room, the Gallery of Great Battles, which celebrates 14 centuries of French military successes.

Macron, almost lecturing Putin, couldn't resist the opportunity to hammer home a message.

"These military victories," he said, "should never make us forget that they were always the result of lack of understanding."