Fresno mom angry after car towed with 5-year-old daughter inside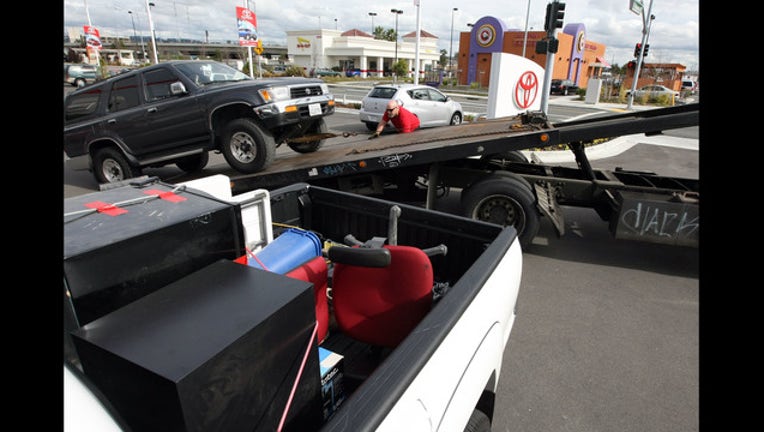 FRESNO, Calif. (KTVU) - A Fresno mom says her car was towed away with her 5-year-old daughter still asleep inside. 
Latonya Sweet was pulling into her complex around 8:30 a.m. Thursday when she noticed a truck from West Coast Towing trailing behind, KSEE24 reports. 
She followed her normal routine and pulled under a tree, so she could lift open her garage. 
Sweet told KSEE24 that she never went inside her home when the driver made a quick move. 
"During that time, the brief moment there, the tow truck pulled up on the side of me and said, 'That's illegal parking,'" she told the news outlet. 
She claims that she tried to tell the man what she was doing. 
"I'm not sure the reasoning for his aggression or his approach but my reasoning was not suffice enough for him," she explained. 
Sweet says she opened her garage and the driver quickly hooked up her car with the child in the backseat. 
She said she told him her daughter was still inside. 
"I just began like yelling, 'My daughter. You're kidnapping my daughter. Like what is wrong with you? Did you not understand that my daughter is in the car and I live here, like I'm not trespassing. I'm not doing anything wrong,'" Sweet said. "So after him taking pictures of the perimeter of my car, he got back in his car and right before he shut the door he said, 'Just as I thought, there's no one in this car and he put the pedal to the metal, and he zoomed out.'"
Sweet added that she begged and pleaded for the driver to return her child. 
She flagged down nearby police officers, and they located the tow truck driver near her home. 
"When they contacted the tow driver, the tow driver indicated he had no idea that the child was in the car," said Sergeant John Romo of the Fresno Police Department.
Sweet eventually got her vehicle back and most importantly her daughter. 
Authorities say the driver could face a child endangerment charge.