From quarterback to philanthropist: Kaepernick hits $1M mark, announces encore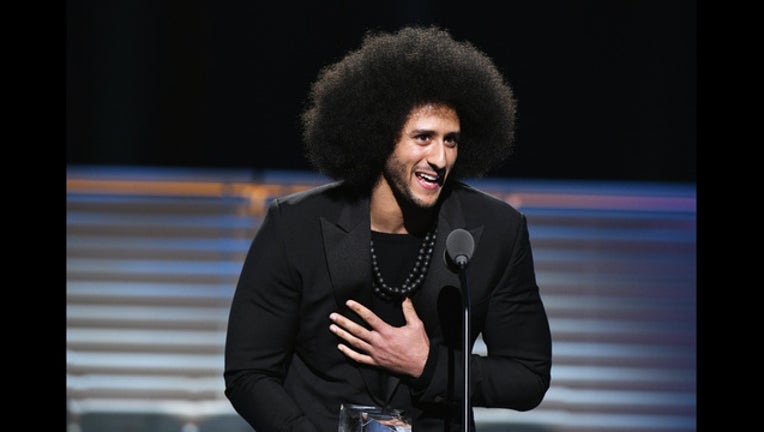 article
Colin Kaepernick is a man of his word. He said he would donate $1 million to communities in need and he did. And now he's giving more.
The team-less quarterback hit his mark Wednesday after finalizing his 10-for-10 pledge that included ten days of donating $10,000 which was matched by a high profile friend. With some days including multiple donators, those who joined in contributed $130,000 for a combined 10-for-10 total of $230,000. 
But the movement's traction was attractive and many voiced their desire to keep it going. 
"I've had so many of my friends reach out and want to be involved and want to support, that we're going to make this the 10-for-10 encore," Kaepernick said in a video posted to Twitter.
Since announcing the extension Thursday morning, seven people have donated. DJ Khaled kicked it off, followed by hip hop legend Dr. Dre, radio host and co-founder of the Know Your Rights Camp Nessa Diab – Kaepernick's girlfriend – and rap mogul Sean "Diddy" Combs.  
Jaylen Brown of the Boston Celtics – former Cal star – and future NBA Hall of Famer Kobe Bryant joined in trailed by Zendaya, an American actress from Oakland. 
"Colin Kaepernick, nothing but love. Thank you for doing wat you do, thank you for doing what you've been doing, and thank you for doing this million-dollar pledge," Khaled said in a video posted to Twitter. "We appreciate you worldwide."
The seven recipients include: 
Khaled – The lower East Side Girls Club. New York City, N.Y.
Dre – Urban Underground. Milwaukee, Wis. 
Diab – The Lower East Side Girls Club. New York City, N.Y.
Combs – Dream. Harlem, N.Y.
Brown – United Playaz. San Francisco, Calif. 
Bryant – Youth Service Inc. Philadelphia, Pa.
Zendaya – Know Your Rights Camp. 
Some organizations received multiple donations. The Lower East Side Girls Club has now accepted $53,000 and United Playaz has collected $30,000. 
The difference between the encore and the original 10-for-10 is the manner in which donations are presented. While originally it was one each day, this seems to be a speedy burst with no designated end date. 
After Zendaya's pledge, Kaepernick's personal charitable donations have soared to $1,215,000. He announced his commitment as a San Francisco 49er following a 2016 preseason game where he took a knee during the national anthem to protest police brutality and racial injustice. He has not wavered since, despite remaining a free agent for the entire 2017 NFL season. 
"My brothers and sisters want to keep this thing going and so we're going to do just that," Kaepernick said.