From the Ashes: Man finds family heirloom in Carr Fire debris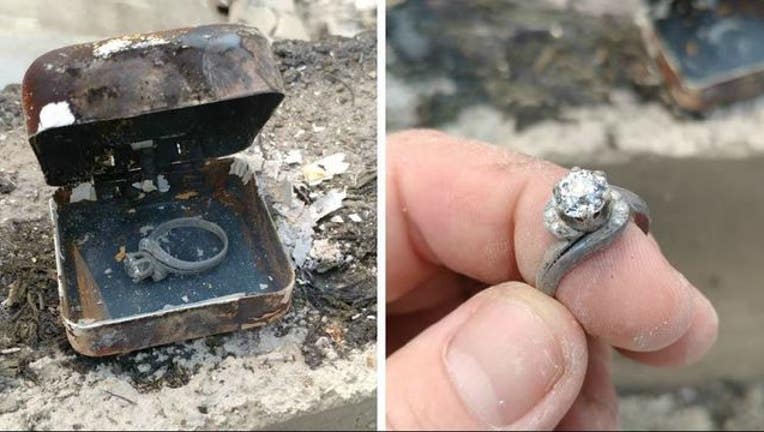 SHASTA COUNTY, Calif. (KTVU) - A man pulled a family treasure from the rubble of his family Redding home. 
Jerry Ogle and his dad's home was destroyed in the Carr Fire. 
When Ogle returned to the ashes - one possession was top of mind - his grandmother's wedding ring.
Ogle says his only hope was to "miraculously" find the diamond among the debris. 
"After about a half hour of searching the area where I knew I left it, I looked to the sky and asked my grandfather for help. Not 30 seconds later I found the box, the same box that it was given to me in. And inside the box among the ash, there it was. My grandmother's ring. God is good," he said. 
The ring is fully intact and will just need a little polishing to return back to its original luster. 
Ogle says his dad lost a home about 25 years ago to a fire, and worked tirelessly to get the beautiful home, which is now ashes. 
The fire was ignited by a vehicle problem a week ago about 10 miles (16 kilometers) west of Redding. On Thursday, it swept through the historic Gold Rush town of Shasta and nearby Keswick, fueled by gusty winds and dry vegetation. It then jumped the Sacramento River and took out subdivisions on the western edge of Redding.
"It wasn't expected to travel that far that fast," said CalFire spokesman Scott Mclean.