Ga. mom fosters dying dog, creates bucket list for final days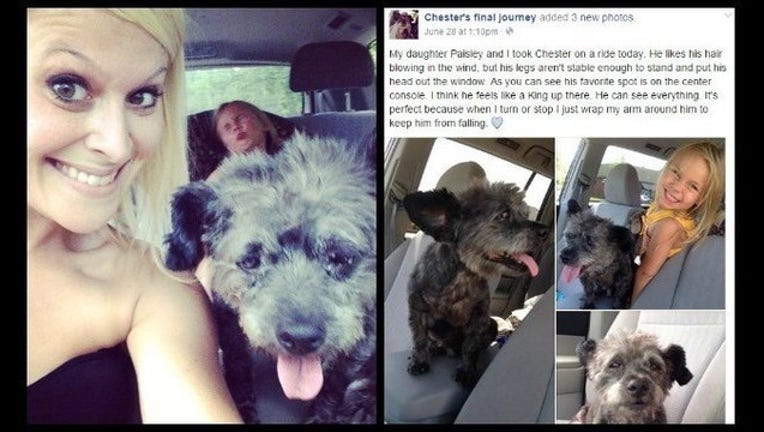 article
(WAGA) -- A Georgia woman has decided to do something amazing for a dying dog.
Nicole Elliot recently came across a post about a dog named Chester in need of a hospice for his remaining days.
According to the Facebook page Elliot created for Chester called "Chester's Final Journey" the pup was saved from deathrow at the pound in Columbus by Animal Ark Rescue in April. Elliot said he was in bad shape and had surgery to remove some tumors, but more tumors showed up soon after. Chester currently has many cancerous lumps all over and is also heart worm positive.
Elliot considered fostering Chester for a while, she said on Facebook.
"I decided it would be an amazing experience to take on. It will be so tough to lose him shortly, so I decided to take the time he has left (which is undetermined, but not guessed to be very long,) and make it as happy as I can," said Elliot.
His new mom hopes to make his final days the best they possibly can be.
"I am wanting to do a sort of bucket list for Sweet Chester and give him and awesome final ride," said Elliot at the end of last month. "I am open to suggestions and ideas."
Elliot is letting the world follow Chester's journey by posting pictures and updates on the Facebook page, which has more than 10,000 likes.
Last Wednesday, Elliot took Chester to Flatrock Park.
"Chester seemed to really like it. When I lowered him into the water he started doing the swimming motions with his legs, so I think he may have been swimming before," she said on Facebook.
On Thursday morning, Elliot said the Facebook page had only 340 likes and by Thursday night it had nearly 1,000. Since then, thousands more have liked it and want to follow Chester's journey.
"I want everyone to know how thankful I am to see all of this love and support! I am trying to respond to all of the posts the best I can. If I have missed any just know I am grateful for you all, and thank you for sharing this journey with us!"
On Saturday, the 4th of July, Elliot announced Chester's journey could also be viewed on Instagram.
Elliot said many people have reached out to her wanting to help by donating. She said none of what she's doing would be possible without Animal Ark Rescue and suggested anyone who would like to contribute can do so by clicking here.
"If you wish to help with Chester's past present and future, and other animals like him, this is how to do so! Your help will allow this rescue to continue to take in dogs JUST LIKE CHESTER!!"
To view the "Chester's Final Journey" Facebook page, click here. 
APP USERS: Click here to view the photo gallery.