Game 5: Warriors fans show "gold-blooded" loyalty for their hoop heroes
SAN FRANCISCO - Golden State Warriors fans came to Wednesday's home game at San Francisco's Chase Center, knowing the team faced an uphill battle. Fans turned out, battle-ready, in their finest blue and gold gear.
The support may have done the trick as the Warriors stayed alive in Game 5 with a 121-106 win over the Los Angeles Lakers. 
"We're in our jackets and I have my Splash Brother Crocs on. We're ready to go," said Jodi Kimel of San Francisco who was with her husband wearing matching Warriors-print blazers.
For many fans, especially the young ones, every playoff game is a Golden State treasure.
Andrew Sparrow is 8-years-old and carried a "We Believe" sign, confident in his hoop heroes. His father, a long-time Warriors fan, knows that his son is seeing a special era in Warriors' history.
"They've won 4 in the 8 years he's been alive and for me, I went 34 years with nothing," said Nathan Sparrow.
Sparrow brought along his good-luck Warriors charm, a number 23 jersey from a past Warriors legend.
"A Mitch Richmond jersey from 15-20 years ago. They haven't lost when I wear it," said Sparrow.
Juan Gutierrez of San Jose just got his lucky Warriors jersey from his girlfriend, Gabby Arevalo of Pittsburg who was sporting Lakers gear.
"I just got it today, thanks to her the Lakers fan," said Gutierrez, giving Arevalo a hug.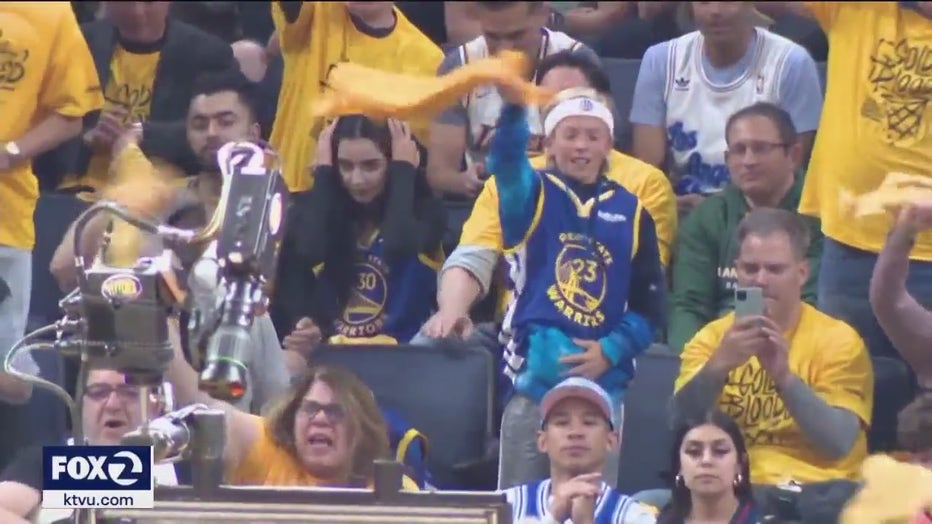 "I'm from Pittsburg but born and raised in Los Angeles, so of course have to represent my city," said Arevalo.
Love of basketball is one thing this couple can share.
For owners of The Sarap Shop, one of Chase Center's first Filipino restaurants, the game coming during Asian American Pacific Islander Heritage Month is a double reason to celebrate.
'We're a huge Warriors family, so it's kind of big for us to have Filipino representation inside of the arena," said Kristen Brilliantes, The Sarap Shop owner.
Brilliantes was sporting a custom Sarap Shop Warriors jersey, showing their business's support and gratitude for Dub Nation.
For those who opted out of the $300-plus tickets, Thrive City was alive outside Chase Center for the free watch party.
The plaza filled with loyal Warriors fans who will remain "gold-blooded" long after these 2023 playoffs end.