Gigantic 'nightmare' bee, thought to be extinct, found alive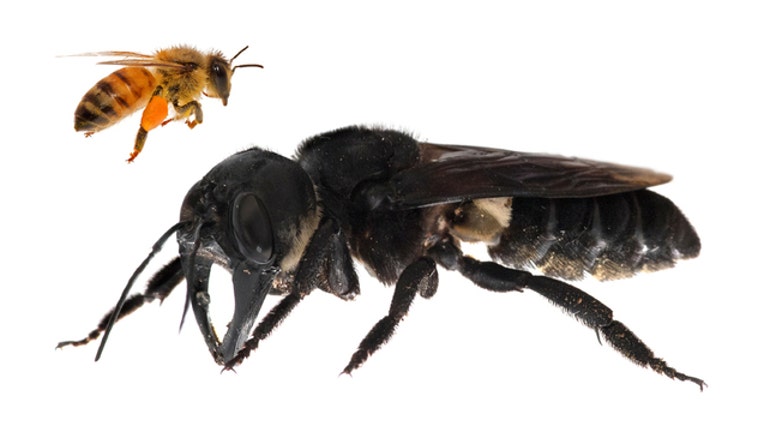 article
MALUKU ISLANDS, Indonesia (FOX 13) - It's been called the "holy grail" of bees, and hasn't been seen alive since 1981. Now Wallace's Giant Bee has been rediscovered in the wild, 38 years after scientists thought it had gone extinct.
Researchers spotted the world's largest bee, which Live Science called a "nightmare bee," in January after a search team set out to find the species. They successfully spotted the bee in the Indonesian province of North Maluku on the Maluku Islands.
"It was absolutely breathtaking to see this 'flying bulldog' of an insect that we weren't sure existed anymore, to have real proof right there in front of us in the wild," said Clay Bolt, a natural history photographer specializing in bees, who took the first photos and video of the species alive after spending years researching the right habitat type with bee expert Eli Wyman.
Wallace's Giant Bee is four times larger than a common honey bee, is about as long as an adult human's thumb, and boasts a 2.5-inch wingspan. They commonly build their nests in termite mounds.
When British naturalist Alfred Russel Wallace first discovered the bee in 1858, he described it as "a large black wasp-like insect, with immense jaws like a stag-beetle."
"I hope this rediscovery will spark future research that will give us a deeper understanding of the life history of this very unique bee and inform any future efforts to protect it from extinction," Wyman said.
For more information on the discovery, visit the Global Wildlife Conservation's website.