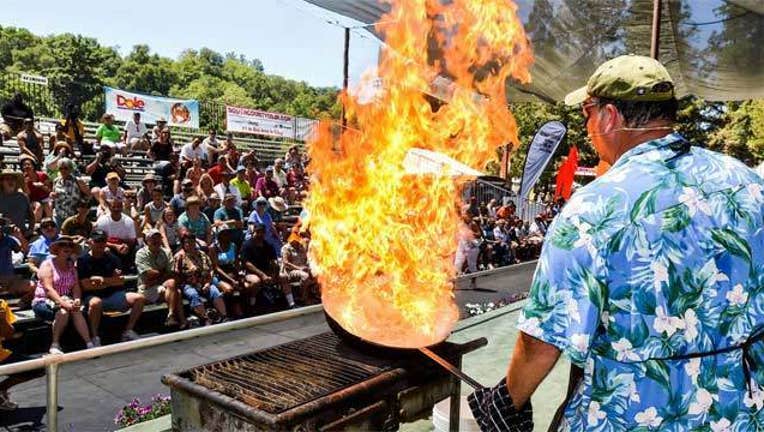 The 37th annual Gilroy Garlic Festival once again celebrates the fragrant vegetable this weekend with three days of delicious food, chef demonstrations and live entertainment that draws tens of thousands to the South Bay city. 
At the heart of the festival is Gourmet Alley, the massive outdoor kitchen where the world-famous cooks put on a spectacular flame-up show while preparing garlic-laced calamari and scampi in huge iron skillets. Other Festival favorites include pepper steak sandwiches, pasta con pesto, fried calamari, and sausage sandwiches, as well as Gilroy garlic fries, garlic bread and more unusual fare like garlic ice cream.
Celebrity chef Daphne Oz from syndicated cooking program The Chew will be on hand to emcee the Garlic Showdown on Sunday where four professional cooks will face off in the iron chef-style competition using a secret ingredient along with the omnipresent garlic. This year's chefs include Gilroy's own Adam Sanchez, chef and co-owner at The Milias Restaurant, Executive Chef for Willard Hicks Grill and past winner Jonathan Toste, Executive Sous Chef and Director of Special Events for the Harker Schools Danae McLaughlin and Roland Passot's LB Steak chef Chad Greer.
Festival visitors can also enjoy the sounds of live rock, country, jazz, blues, reggae and more on three stages, browse arts and crafts while keeping younger attendees occupied in the Children's Area and Teen Zone. This year, the festival will also be hosting the first-ever Garlic Dream Wedding. For more information on the Gilroy Garlic Festival, visit the official website.
Gilroy Garlic Festival
Friday-Sunday, July 24-26, 10 a.m. to 7 p.m. $10-$20 (children 6 and under free)
Christmas Hill Park