Goal surpassed in donations for Kavanaugh's accuser, a Palo Alto professor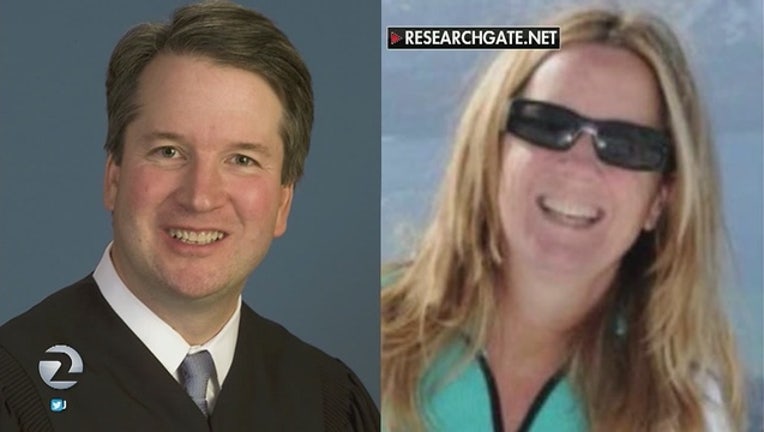 PALO ALTO (BCN) A Palo Alto University professor who brought sexual assault allegations against U.S. Supreme Court nominee Brett Kavanaugh on Sunday has been forced to leave her home due to death threats, the woman's attorneys said.
In a letter to Senate Judiciary Chairman Chuck Grassley, attorneys Debra Katz and Lisa Banks said their client, Christine Blasey Ford, has been a victim of harassment, hacking and impersonation.
Ford's supporters set up a GoFundMe donation page Tuesday to pay for any security expenses stemming from the ongoing threats.
The page has since surpassed its goal of $175,000 by nearly $30,000, and organizers say the surplus will fund women's groups or additional security costs.
"Let's create a fund to cover her security expenses, to do just a bit to make it easier for women in her position to come forward despite great risks," wrote the creator of the page, Georgetown University law professor Heidi Feldman. 
Ford revealed her identity after the details of her experience were leaked, according to Katz and Banks.
She spoke to the Washington Post in a story published Sunday.
She alleged that Kavanaugh pinned her to a bed on her back and groped her over her clothes at a party in Maryland in the early 1980s when he was 17 and she was 15. She also alleged that Kavanaugh covered her mouth when she tried to scream.
"I categorically and unequivocally deny this allegation. I did not do this back in high school or at any time," Kavanaugh said in a statement. 
He is currently a judge of the United States Court of Appeals in the District of Columbia Circuit.
Ford's attorneys on Tuesday called for an FBI investigation into their client's allegations and said it was inappropriate to ask Ford to testify in front of the Senate on Sept. 24, but she would be present if it 
was required. 
"While no sexual assault survivor should be subjected to such an ordeal, Dr. Ford wants to cooperate with the Committee and with law enforcement officials," the attorneys wrote.