GoPro captures skier 'swimming through avalanche' to keep head up, continues rolling after buried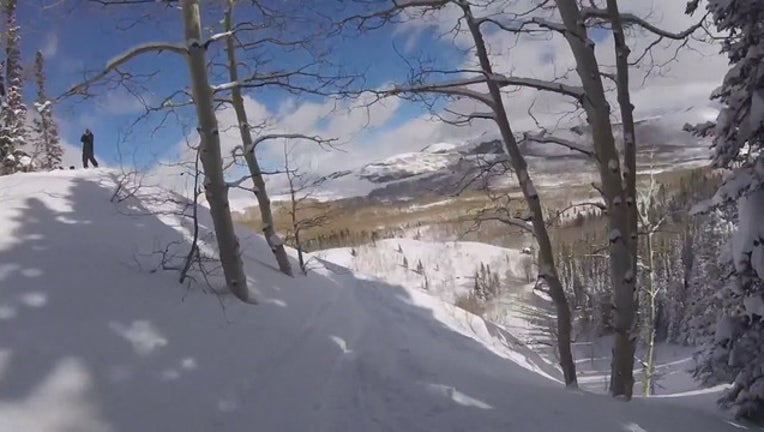 article
(KTVU) - A skier wearing a GoPro camera captured the terrifying moment an avalanche swept him down the side of a Utah mountain and the camera continued to roll as he desperately yelled for his friends beneath the snow's surface.
A group of friends watched the skier go over a jump and then get swallowed up by a wall of snow. He was carried about 200 feet down the mountain. 
"I watched him roll over the jump and all of a sudden I see this avalanche and I'm just like, 'Oh, slide,'" said Colby Stevenson, a competitive skier who was positioned at the bottom of the avalanche. He watched helplessly as tons of snow carried his friend down the mountain.
"He let go of his poles and he was actually swimming through the avalanche to try to keep his head up," he said. 
Mobile users: Watch the avalanche footage here
The group of competitive skiers were prepared for backcountry skiing, carrying necessary equipment, including shovels, which proved to be critically important when they raced down the mountain and desperately dug through the snow for any sign of their friend. The friend finally came to a stop after being carried through the trees and rocks. He was buried completely. 
"Right as the slide comes to a stop I'm skiing over there in like full panic, you know, adrenaline through the roof, just wanting to see my friend," said Stevenson.
Another friend named John Brown, who was watching from the top of the run, made it down to where the skier was buried seconds later. Brown describes it as scary and difficult to think straight. Eventually both friends were desperately searching for any sign of their friend. They narrowed in once they saw the tip of a ski.
"When I actually hit his leg for the first time, he started screaming," said Stevenson. "It was very frantic. We were just going to dig until his head was free and he could breathe."
Brown said he actually struck his friend in the head with the shovel. It was received as a painful sign of relief. "We dug his head out and I'm like, 'I'm sorry I hit you in the head,' and he's like, 'The best feeling in my life was just getting hit in the head with a shovel,'" said Brown.
When it all settled and everyone was safe, the group reflected on how fragile life is and how quickly it can change. "I had a few minutes to think about am I going to be able to save my friend or is he just going to die," said Brown.
The footage provide cuts off when the two friends come into the frame. You can feel the relief just watching as one of the two calls out: "We got you buddy, we got you."