Haren uses bat, arm to lead Marlins past Giants 7-2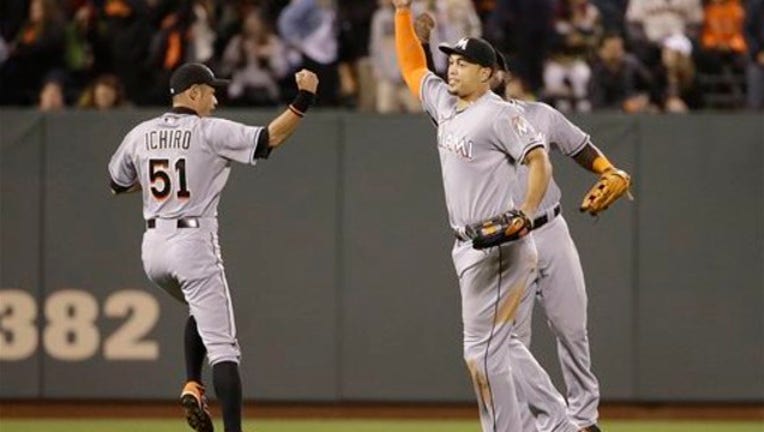 SAN FRANCISCO (AP) — Dan Haren drove in two runs, scored two more and took a shutout bid into the seventh inning to almost single-handedly lead the Miami Marlins to a 7-2 victory over the San Francisco Giants on Thursday night.
Marcell Ozuna added a two-run homer off Tim Hudson (1-3), Giancarlo Stanton drove in two runs and Dee Gordon had three hits to help the Marlins win for the 14th time in their last 19 games in San Francisco.
But Haren (4-1) was the real star. He hit a two-run double and scored later in the second and added a single and run scored in the fifth. He did the rest of his work on the mound, allowing two runs and eight hits in seven innings to extend his strong start to his Marlins career after contemplating retirement following his offseason trade from the Dodgers to Miami.
Hudson allowed six runs and a career-high 15 hits in 6 2-3 innings as the Giants lost their second straight after winning 10 of the previous 13. Hudson had won his previous six starts against the Marlins before allowing the most hits by a Giants pitcher since Hall of Famer Gaylord Perry gave up 16 on Sept. 28, 1968, against Cincinnati.
Hudson would have had a strong outing if he only could have retired the opposing pitcher. Haren came up for the first time with two on and two out in the second and hit a drive to right-center that gave Miami a 2-0 lead. He scored when Gordon doubled for his 50th hit of the season.
Hudson worked quickly through the next two innings before Haren gave him more trouble in the fifth. He led off with a single and later scored on Stanton's sacrifice fly that made it 4-0.
Hudson also got into the hitting act with a leadoff single in the third that ended an 0-for-49 drought.
The game was preceded by a ceremony to present Marlins outfielder Michael Morse with his World Series ring. A video played showing highlights of how Morse helped the Giants win it all last year and Morse's old teammates came out to cheer and hug him after manager Bruce Bochy and CEO Larry Baer gave him the ring.
TRAINER'S ROOM
Marlins: OF Christian Yelich is expected to be activated from the DL on Friday after being sidelined with a back injury since April 20.
Giants: OF Hunter Pence (fractured left forearm) took live batting practice before the game and is expected to start a minor league rehab assignment this weekend.
UP NEXT
Marlins: Jarred Cosart (1-2) makes his first career appearance against the Giants in Game 2 of this four-game series.
Giants: Tim Lincecum (2-2) looks to follow up on his eight scoreless innings against the Angels on Sunday. Lincecum lost both starts he made against Miami last year.