Harvard-bound California teen is questioned about his merits, his response goes viral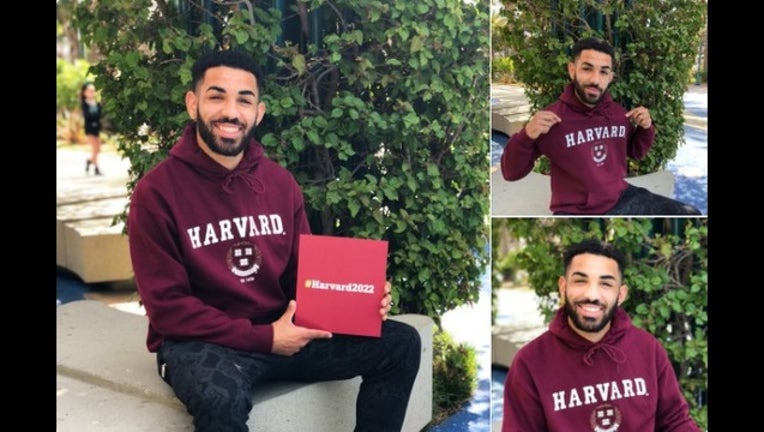 article
MARINA, Calif. (KTVU) - A California teen who is heading to Harvard next fall is not only being applauded for his accolades and accomplishments but his handling of what many blasted as a racially charged remark from a former education official from Texas.
Last Wednesday Drake Johnson of Marina in Monterey County took to Twitter with a big announcement declaring his intent for his collegiate future: "It's official, I'm Harvard bound #harvard2022," he proudly tweeted with photos of him in a Harvard sweatshirt.
A couple days later, former Texas Board of Education member George Clayton tweeted at the bi-racial teen saying, "Congrats. Were you admitted on merit or quota?"
Johnson's response was simple, one that many on social media have described as classy, thoughtful, and full of poise and maturity. He wrote, "Thank you! Valedictorian, ASB President, World Champion, good SAT, and a couple handfuls of other involvements, so I would think merit?"
The backlash against Clayton's tweet was immediate with many calling it blatantly racist and insulting.
Johnson's response to the former education official has since gone viral, with 1.4K retweets and it has prompted words of support from far and wide including from celebrities like model Chrissy Teigen, as well as from a Harvard law professor who invited him to look him up when he got to the university.
Chair of the Texas Board of Education, Donna Bahorich, also expressed her support and congratulations. In a tweet she described Johnson as "a young man who is going places and deserves ONLY accolades and a big high five," with the hashtag #youmakeusproudDrake.
Clayton's Twitter account has since come down. But on Monday he posted this apology:
"What I said in my remarks was totally wrong and hugely insensitive. My shame hangs heavy in my heart. It was totally out of character for me to make such a hateful comment. I am, of course humbled by my words and sincerely sorry for them. George Clayton"
As for Johnson, he told one supporter on Twitter that he plans to "filter out the noise and just focus on having my own positive impact."
In addition to Harvard, Johnson was accepted to other top universities including UC Berkeley, UCLA, Georgetown, Dartmouth, Cornell and Brown.
Beyond being an exceptional student, Johnson's accolades include being a part of a world champion cheer team, based here in the Bay Area.
He has competed as a member of the California All Stars cheerleading program, which calls for an intense practice schedule that involves driving about four hours round trip to a gym in Livermore.
His hard work has paid off and his future plans are ambitious. Johnson says he'll study government and political science at Harvard, and he hopes to be president of the United States one day, with plans to make a run for the White House by 2044.
And it appears the future candidate may already have a pretty strong following of supporters behind him.