Hayward teacher on leave after complaints of antisemitic conspiracy theories being taught
HAYWARD, Calif. - A teacher at Mt. Eden High School has been placed on administrative leave following two months of complaints that he taught antisemitic conspiracy theories to students.
Henry Bens, an English teacher at Mt. Eden, was placed on leave last week following a school board meeting in which parents and students voiced their concerns over the material he was presenting in class.
Myldret Vazquez, a sophomore in Bens's class, said students were given a pamphlet containing an excerpt from the book "The Hidden Tyranny" in December. Students were asked to read and make annotations of the material. Vazquez said prior to the introduction of the material, Bens performed a Nazi salute.
"He said, 'What if I came up and did the hail Hitler salute?' He proceeded to actually do it and everyone gasped," she said.
Vazquez said Bens told the class they overreacted to his gesture.
Ruchita Verma, a senior at Mt. Eden, said although she is not in Bens's class, she did read the pamphlet and was upset.
"The author, Benjamin Freedman, a known Holocaust denier, says Jewish people are planning to take over the world, they're controlling the media, and responsible for the United States getting involved in World War II," Verma said.
SEE ALSO: San Francisco using red flag law to try removing gun from synagogue shooting suspect
She is disappointed the district took two months to investigate complaints against Bens.
"At the board meeting we spoke up and weren't given clear action plans on what they're going to do," Verma said.
A complaint was filed with the Anti-Defamation League in December, according to Deputy Regional Director of the Central Pacific Region Teresa Drenick.
"This text is one of the most antisemitic texts in existence, and it seems like this teacher was giving a master class on antisemitism to students at Mt. Eden High School," Drenick said.
She said the incident is a concern given the rise of antisemitism in other parts of the country and Bay Area, including swastikas being spray-painted on buildings and antisemitic flyers being given out in neighborhoods.
"Even here in the Bay Area we are not immune to the rise in antisemitic behavior," she said.
Drenick said the ADL offered support and resources to Hayward USD. The ADL met with HUSD in January for an initial meeting but said the talks went nowhere. It wasn't until media coverage on the incident was made public that the district reportedly chose to reach out to the ADL to continue talks on the issue.
READ MORE: OUSD has vacancy after election snafu
The ADL is seeking the immediate removal of the material and a review of resources on campus and requesting HUSD provide anti-bias workshops while acknowledging the material is "a form of hate-filled propaganda."
A spokesperson for HUSD released the following statement to KTVU:
"Hayward Unified School District does not condone or tolerate any type of hateful or biased rhetoric, including anti-Semitism. We take these allegations very seriously, and the teacher alleged to have made such statements and used inappropriate materials is currently on a leave of absence. Students from all backgrounds and religions should feel welcome and safe to express themselves while they learn, and that is the kind of district we aim to be. Hatred and discrimination, in any form, has never been welcome in our district."
Dance teacher Courtney Marshall said she believes HUSD has a history of avoiding complaints of hate, racism, and antisemitism. She welcomes change in the district.
"I hope that they do better," Marshall said. "I hope they recognize our children are suffering and that we are supposed to teach them that hate is wrong."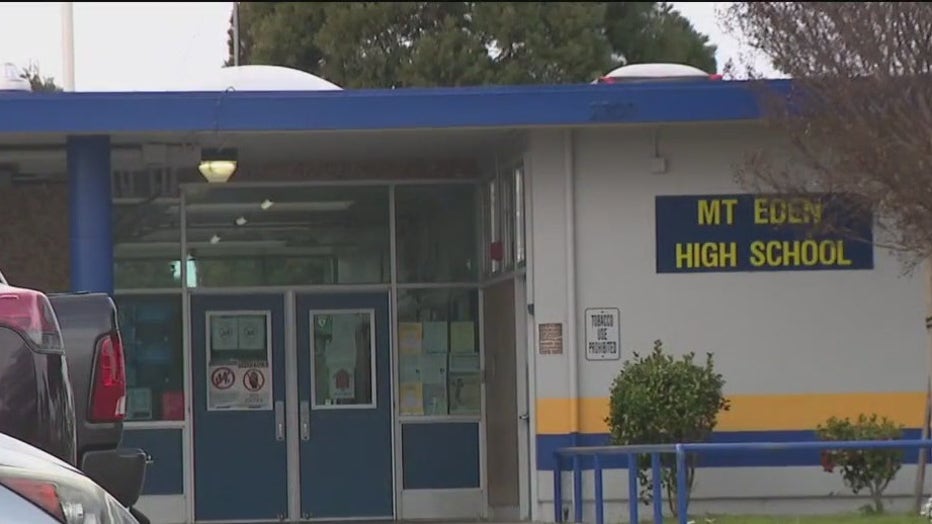 Mt. Eden High School in Hayward