Heavily favored Warriors ready for NBA playoff opener against Pelicans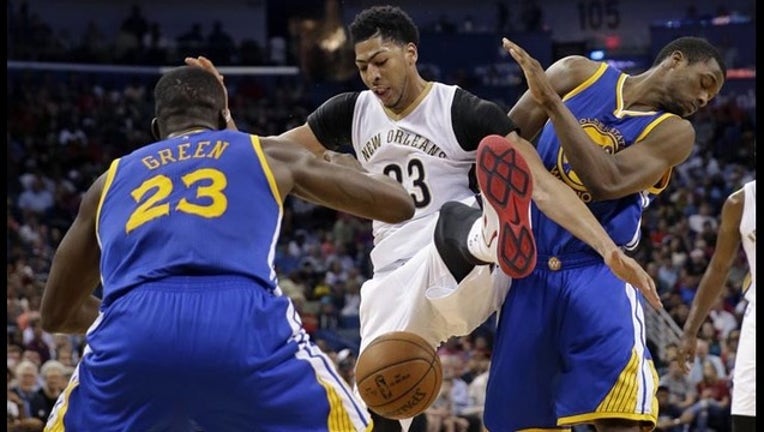 article
OAKLAND, Calif. (AP) — Golden State secured the No. 1 overall seed two weeks ago and has been at the top of the NBA standings all season. New Orleans needed an all-out effort through its last game against San Antonio to claim the Western Conference's final playoff spot.
Expectations for both teams now are just as stark.
The Warriors are hoping the Pelicans are a prelude to their championship march. New Orleans has a nothing-to-lose-and-everything-to-gain mentality in the franchise's first postseason appearance since 2011.
The best-of-seven series starts Saturday at amped-up Oracle Arena, and the only differences that matter will be settled on the court in front of a gold-shirt wearing sellout crowd and a national television audience.
"They don't care that we won 67 games," Warriors center Andrew Bogut said. "We don't get an extra pat on the back before the series starts or anything like that. We get home court and that's about it."
The Warriors are counting on their talent, experience and playoff pedigree to power them through what they hope is a run that ends with a championship parade.
They have MVP favorite Stephen Curry and fellow sweet-shooting guard Klay Thompson in the backcourt. They have the NBA's top-rated defense and highest-scoring offense. And they have the league's toughest home court, where 19,596 roaring fans have rocked and rattled road teams since well before the Warriors were good.
"This is what we've been waiting for," Curry said. "Everything we've gone through to this point will hopefully prepare us for this journey of winning 16 games."
Golden State might be the deeper, more talented team. But the Pelicans present problems for anybody because of Anthony Davis, the No. 1 overall pick of the 2012 draft who is on the verge of stardom — if he's not there already.
The 6-foot-10 power forward, who won a national title at Kentucky and a gold medal with Team USA at the 2012 London Olympics, practically carried the Pelicans into the playoffs. He finished with 31 points, 13 rebounds, three blocks in the clinching win over the Spurs on Wednesday night.
Pelicans coach Monty Williams expects the 22-year-old Davis to show up the same way he has on every big stage in his career. And Davis doesn't care that just about everybody outside of New Orleans is picking the Pelicans to lose.
"We love matchups like this," Davis said. "We've been in this situation the whole year. We've made it this far. We're not looking to go home just yet."
Here are some things to watch during the series:
DAVIS' DIFFERENCE: The Warriors went 3-1 against the Pelicans this season, though Davis sat out two of Golden State's wins. He was the NBA's biggest maker this season, leading the league with a 30.89 player efficiency rating, a complicated formula that calculates a player's per-minute productivity. He averaged 24.4 points, 10.2 rebounds and 2.9 blocks per game. New Orleans will need Davis at his best.
GETTING DEFENSIVE: Warriors center Andrew Bogut and versatile forward Draymond Green will spend most of the time defending Davis. Bogut (96.8) and Green (97.2) finished second and fourth in defensive rating, respectively, and Green is a leading candidate for Defensive Player of the Year along with San Antonio's Kawhi Leonard. The 7-foot Bogut is among the most bruising big men down low. Green gives up size at 6-foot-7, but he's as crafty as it gets and an overall pest in the post.
SPLASH BROTHERS: Curry surpassed his own NBA record for most 3-pointers in a season, finishing with 286 from beyond the arc, where he shot 44.3 percent. Thompson ranked second in the league with 239 3-pointers, shooting 43.9 percent from long range. The All-Star backcourt is the key to Golden State's potent offense.
HOLIDAY BACK: The Pelicans got a late-season lift with the return of point guard Jrue Holiday, who missed 41 games with a stress reaction in his right leg. Holiday has been on a minutes restriction since he returned last week, but he could provide a big boost off the bench behind Tyreke Evans and Eric Gordon. Of course, the Warriors went 2-0 against New Orleans when Holiday played in December.
HOME COURT: Oracle Arena has been one of the league's toughest and loudest venues for a long time. The Warriors took that to a different level this season, going an astonishing 39-2 at home. One loss came to Chicago in overtime and the other to the defending champions Spurs in early November. Can the Pelicans steal one on the Warriors' home floor?