High school senior doesn't have date for prom, takes Harvard acceptance letter instead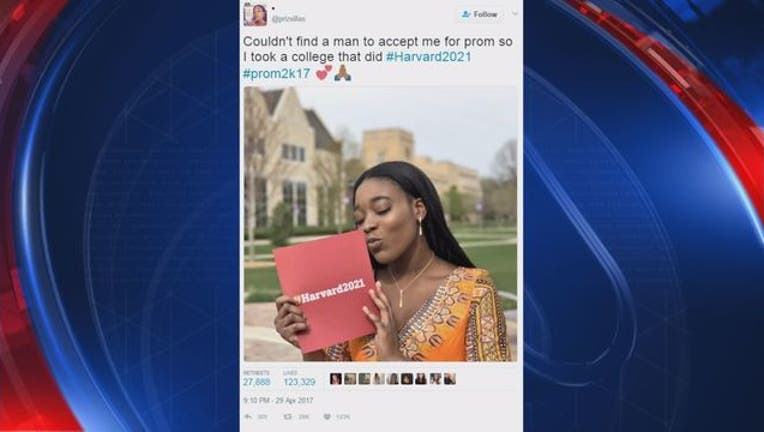 article
A high school student did not get asked to senior prom, so she took her Harvard acceptance letter instead and her tweet went viral. 
It wasn't the end of the world for 17-year-old Priscilla Samey when no one asked her to senior prom. In fact, her world is just starting because she was accepted to seven Ivy League schools.
Her tweet from March 30, 2017 listed the schools she was accepted to and garnered over 1,000 retweets.
"Hi I'm Priscilla Samey and I just got into: Yale, Princeton, Harvard, Columbia, Brown, University of Pennsylvania, Cornell. Look at what God did"
In essence, she had options where it really mattered-- seven of them to be exact. 
So when prom rolled around, the teen adjusted her crown, grabbed the Harvard acceptance letter and tweeted a picture with the caption that read: 
"Couldn't find a man to accept me for prom so I took a college that did #Harvard2021 #prom2k17"
As you can expect, the tweet received so much love on Twitter, we're talking over 27,000 retweets kind of love.
People praised Samey for her achievement and most importantly for shutting down the hype over prom.
Congratulations Priscilla Samey on your success!