Highland Park shooting suspect contemplated 2nd shooting, confessed to police
HIGHLAND PARK, Ill. - The man charged with killing seven people at an Independence Day parade Monday confessed to police that he unleashed a hail of bullets from a rooftop in Highland Park and then fled to the Madison, Wisconsin, area, where he contemplated shooting up an event there.
New details were released in court Wednesday, which outlined Robert Crimo III's actions the day of the attack.
At about 10 a.m. Monday, the 4th of July parade kicked off in downtown Highland Park. About 15 minutes later, gunshots were heard and numerous people along the crowded parade route were shot.
Five victims were pronounced dead at the scene. Those victims are:
Katherine Goldstein, 64, of Highland Park
Irina McCarthy, 35, of Highland Park
Kevin McCarthy 37, of Highland Park
Jacquelyn Sundheim, 63, of Highland Park
Nicolas Toledo-Zaragoza, 78, of Morelos, Mexico
Eduardo Uvaldo, 69, of Waukegan, and Stephen Straus, 88, of Highland Park were transported to local hospitals from the scene, where they later died from their injuries, prosecutors said.
Additionally, over two dozen victims were transported or self-transported to local hospitals — most of which had gunshot wounds.
Highland Park police and other state, local and federal law enforcement agencies responded to the scene and began to search for the suspect.
A witness told police that they saw an individual with a gun on the rooftop of a building at the northwest corner of the intersection of Central Avenue and Second Street, prosecutors said.
The witness also said they saw the person scan the crowd with a gun and saw muzzle flashes.
Officers then began to retrieve surveillance video and images from nearby businesses as well as from parade attendees, prosecutors said.
Crimo, 21, was allegedly seen on surveillance video walking east in an alley toward the back of the building at the northwest corner of Central Avenue and Second Street prior to the shooting.
Prosecutors say Crimo allegedly used an outside fire escape staircase of an attached building to gain access to the rooftop.
Police also found the shells of 83 bullets and three ammunition magazines on the rooftop that he fired from, Lake County Assistant State's Attorney Ben Dillon said.
After this shooting, surveillance video shows Crimo allegedly running west in that alley toward Green Bay Road, while carrying a black bag over his shoulder.
As Crimo was running, prosecutors say an object wrapped in cloth fell out of the bag and onto the pavement. Crimo allegedly left the object and continued running.
The wrapped object was recovered by investigators and identified as a Smith and Wesson M&P 15 semi-automatic rifle that had a round in the chamber, but no magazine inserted, prosecutors said. 
The Bureau of Alcohol, Tobacco, Firearms and Explosives conducted an E-Trace of the Smith and Wesson with the serial number from the rifle.
The trace determined that Crimo obtained the weapon at a gun store in 2020, prosecutors said.
Police officers who were familiar with Crimo identified him in surveillance video. He also appeared to be wearing women's clothing on surveillance video.
After driving to Wisconsin following the Highland Park parade shooting, Crimo returned to Illinois because he felt he was not prepared to pull off another shooting, Lake County Major Crime Task Force spokesman Christopher Covelli said.
After an hours-long extensive search, police were able to take Crimo into custody at about 6:25 p.m. Monday during a traffic stop by a North Chicago police officer.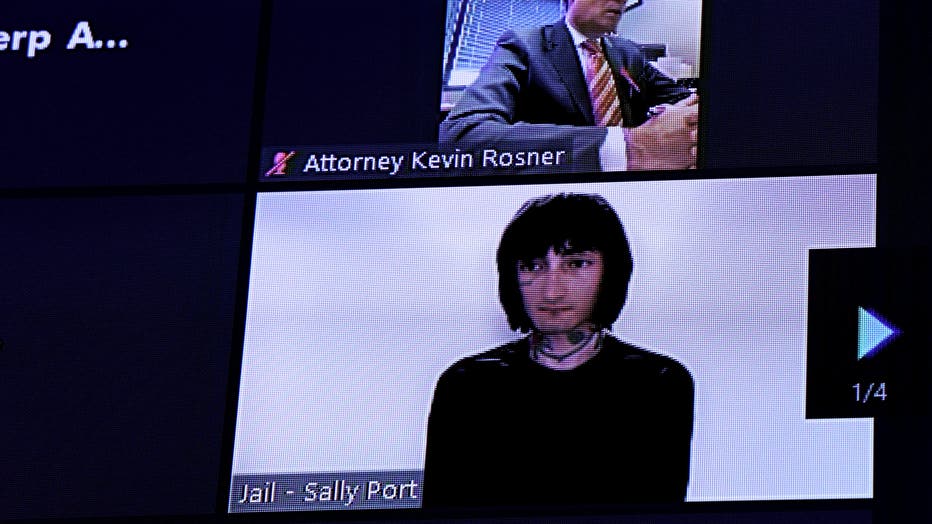 Robert Crimo III, 21, who is charged with seven counts first-degree murder, appears at his bond hearing via video on Wednesday, July 6, 2022, at Lake County Circuit Court in Waukegan. Crimo is suspected of firing into the crowd at a Fourth of July pa
Investigators who have interrogated the suspect and reviewed his social media posts have not determined a motive for the attack or found any indication that he targeted anyone by race, religion or other protected status, Covelli said.
Crimo allegedly confessed to his actions while being interviewed by police, and said that he dressed up like a girl and covered his tattoos with make-up because people would recognize him.
He allegedly told police that he used the stairway to get to the rooftop and looked down his sights, aimed and opened fire at people across the street, prosecutors said.
MORE: Parents of boy found alone after Highland Park parade shooting were among those killed
Crimo also identified himself and the weapon on still images from surveillance video.
Lake County State's Attorney Eric Rinehart said he expects to announce dozens of more charges against Crimo in the coming days, including attempted murder, aggravated battery, and aggravated discharge in an attack he described as "well-orchestrated and carefully planned."
"These are just the first of many charges being filed against Mr. Crimo," Rinehart said.  "I want to emphasize that: there will be more charges. We anticipate dozens of more charges centering around each of the victims."
SUBSCRIBE TO THE FOX 32 YOUTUBE CHANNEL
Questions also arose about how the suspect could have skirted Illinois' relatively strict gun laws to legally purchase five weapons, including the high-powered rifle used in the shooting, despite authorities being called to his home twice in 2019 for threats of violence and suicide.
Police went to the home following a call from a family member who said Crimo was threatening "to kill everyone" there. Covelli said police confiscated 16 knives, a dagger and a sword, but said there was no sign he had any guns at the time, in September 2019.
Police in April 2019 also responded to a reported suicide attempt by the suspect, Covelli said.
Crimo legally purchased the rifle used in the attack in Illinois within the past year, Covelli said. In all, police said, he purchased five firearms, which were recovered by officers at his father's home.
A Lake County Judge denied Bond for Crimo on Wednesday.
He faces seven counts of first-degree murder, and if convicted, Crimo will face life in prison without the possibility of parole.
His next court date is scheduled for July 28.