Hillary Clinton could choose a running mate as soon as Friday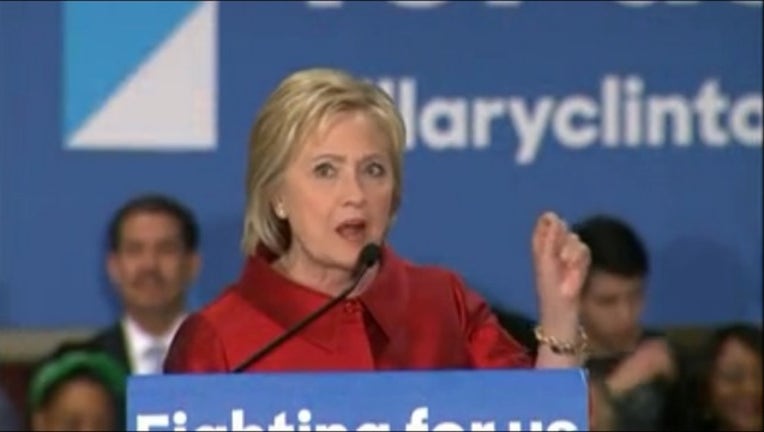 article
(KTVU and AP) - Presumptive Democratic Presidential candidate Hillary Clinton is spending a few days at home in New York, where she is reportedly deciding on a running mate.
Clinton could announce her choice for vice president as soon as Friday.
She is said to be focusing on Virginia Senator Tim Kaine, U.S. Agriculture Secretary Tom Vlsack, Labor Secretary Tom Perez, and Massachusetts Senator Elizabeth Warren.
Political experts seem to think that Kaine has the inside track.
Clinton is expected to announce her decision in Florida, either in Tampa on Friday, or in Miami on Saturday.
The Democratic Convention kicks off Monday in Philadelphia.
Kaine is a former governor, mayor and one-time Catholic missionary fluent in Spanish.
Vilsack is the former governor of Iowa, and longtime Clinton ally.
Perez is a progressive champion who would be the first Hispanic on a major-party ticket.
Massachusetts Sen. Elizabeth Warren, a favorite of liberals, remains in the mix and offers the campaign a fundraising juggernaut and the tantalizing prospect of an all-female ticket. But Warren is not expected to be the final choice, said the Democrats familiar with the process. They spoke on condition of anonymity to describe private discussions about the search process.
The Democrats cautioned that Clinton had not yet reached a final decision and was weighing a number of factors, including the person's readiness to be president, personal compatibility and ability to help her administration govern.
Clinton's choice will be the culmination of a closely held search for a running mate, run by a small group of longtime advisers and confidantes.
Preparing for a showdown with Republican presidential nominee Donald Trump, Clinton has sought to project an inclusive campaign aimed at "breaking down barriers and building bridges" to mobilize the diverse coalition of voters who twice elected President Barack Obama.
Following the convention, the newly minted ticket is expected to embark on a campaign bus tour, reminiscent of the "First 1,000 Miles" convoy that took Bill Clinton, Al Gore and their spouses across eight states after the party's 1992 convention.
Democrats familiar with the process said Trump's choice of Indiana Gov. Mike Pence, a conservative former congressman, for the GOP ticket was not viewed as requiring her to choose a specific running mate in response. Campaign officials declined to comment.